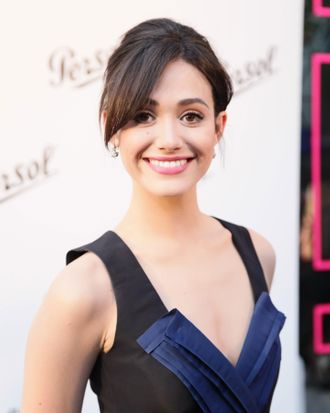 Photo: Matteo Prandoni/BFAnyc.com/BFA NYC
There's a plague that sweeps New York Fashion Week every season, in which a crop of unexpected celebrities try to make themselves "happen." Symptoms usually include: cheesing it up in front-row seats, changing into brand-new looks for shows scheduled back-to-back, and basking in the media spotlight. Last Fashion Week, Allison Williams and A$AP Rocky split the crown.
This time around, actress Emmy Rossum appears to have caught the bug before Fashion Week has even started. She tweeted, "Getting excited seeing the #NYFW fashion week schedule! Just around the corner & in time for my Sept b-day. Perfect treat pre #shameless!" We'll just zero in on her hashtags, "#NYFW" and "#shameless." Hey, at least she knows.