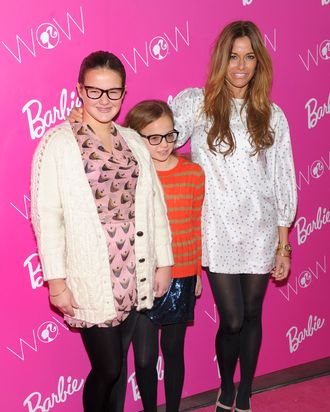 Kelly Bensimon and children.
Photo: Michael Loccisano/Getty Images
The weekend of New York Fashion Week is the unofficial "bring your kids to the shows" day. It's a status symbol, really, proving you're successful and cool enough to show up with an impromptu — albeit miniature — plus-one, Jennifer Lopez style (bonus points if your daughter carries a tiny Chanel bag). But if you're a fading reality star who has enough trouble wrangling show invitations to begin with, or if you'd just rather watch your kids parade around in clothes instead of skinny models, why not hold your own fashion show starring your own children instead? That way everyone can marvel at your offspring's cuteness with no distractions at all.
Enter "Kids Rock," a fashion show that will be held at Grand Central Terminal on September 11, at 6 p.m. WWD reports that the "models" will include Teddy, daughter of Kelly Bensimon; Jeffrey Tarpley, son of Sherri Shepherd; Lil C, Jaden, Cyia, and Carter, children of New York Yankee CC Sabathia; and Amar'e Jr., Assata and Ar'e, children of New York Knick Amar'e Stoudemire. They'll be "wearing the latest trends," says a spokesperson for Haddad Brands, which is sponsoring the show. Stoudemire will "host," and the labels represented (Levi's, Converse, Jordan, and Nike) will donate items to his foundation, as well as to Kids in Distressed Situations.
This seems like a win for everyone — the babysitter gets Saturday night off, the parents get to admire their progeny, and the kids get to one-up all the editors' children who spent the day getting toted around to Prabal Gurung and Alexander Wang. Playground bragging rights are almost as good as a Chanel bag, right? Wait, all these kids probably have one of those, too.