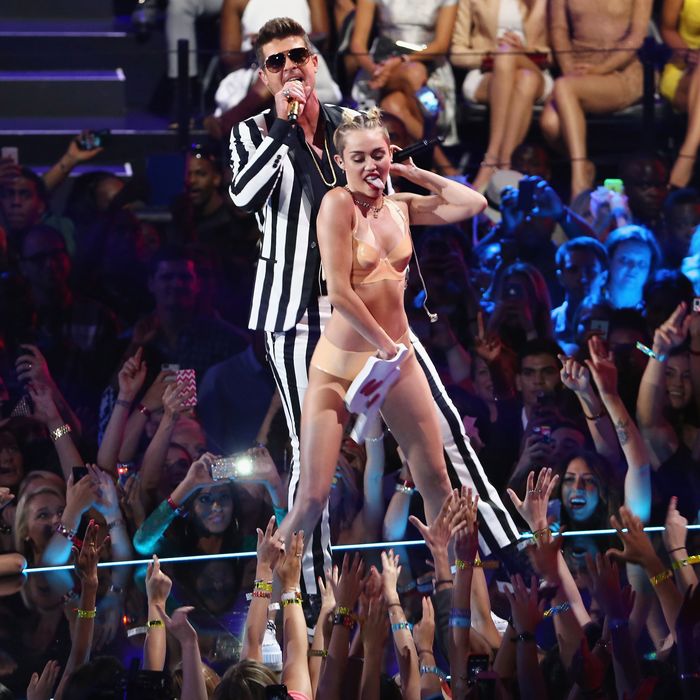 Miley Cyrus and the foam finger.
Photo: Neilson Barnard/Getty Images
Steve Chmelar is credited with inventing the foam finger at age 16 in 1971, when he brought a giant finger made of papier-mâché to the Iowa High School Athletic Association Boy's State Basketball Finals. So imagine his outrage, given his creation's wholesome, corn-fed origins, when Miley Cyrus used it to rub her nude-colored latex crotch (and those of her backup dancers) at the VMAs. So horrified was he at the blatant sexualization of the foam finger — which, of course, has never happened before — that he took to Fox News to complain.
"She took an honorable icon that is seen in sporting venues everywhere and degraded it," said Chmelar, 59. "If I had a choice between Julie Andrews singing 'The Sound of Music' and Miley Cyrus doing 'Can't Stop,' I'd go the Julie Andrews route." Wait, talk about degrading an icon! Why drag poor Julie Andrews into this?
But Chmelar believes the finger's legacy will recover. "Fortunately, the foam finger has been around long enough that it will survive this incident," he said. "As for Miley Cyrus, let's hope she can outlive this event and also survive." (The part where he cackled darkly and rubbed his hands together was presumably edited out.)