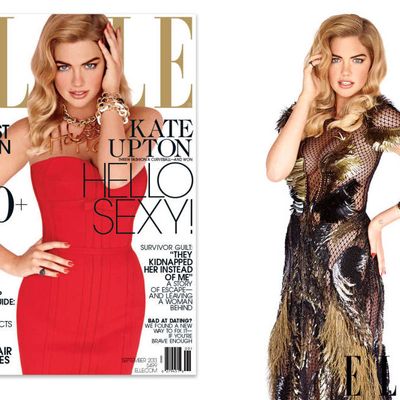 The fashion industry has been so busy marveling at Kate Upton's body (she has breasts!) that Elle's September issue is able to break new ground on the year's most talked-about model simply by addressing another aspect of her physical being: her mind. See, in addition to boobs, she also has brains with which to conceive thoughts like the following:
People deal with models like they are children. They think they can pull one over on you. It's actually funny. I'm always like, I'm about to pull something on you, and you're so focused on thinking I'm dumb you're not even going to know.
The above quote currently appears on Elle's website next to a photograph of Upton lying on a bed, her cleavage encased in a lacy black bra that peeks out from the top of a low-cut sweater. But tear your eyes away from her décolletage for just a moment and you will see an open book resting on her Louis Vuitton–clad hip. Yes, a book! An early edition of the A.M. Homes novel This Book Will Save Your Life, to be exact, which in this case might as well be titled This Book Will Prove That I Read.
Not only is she literate, she is also a woman of faith, as evidenced by the tiny cross tattoo on her finger:
I was at a photo shoot and I was wearing a cross necklace that my mom bought me, and somebody made a joke like, 'Why are you wearing a cross? Like you would be religious.' And then they took [my necklace] away. I was really affected by that. The whole thing made me realize that I do want [a cross] with me, at all times.
What's more, she has feelings and emotions, and she's tired of being reduced to some bouncy plaything, despite what those Terry Richardson videos might lead you to believe:
After my first Sports Illustrated cover, I felt terrible about myself for a solid month. Every single guy I met was either married or about to be married, and I felt like I was their bachelor present or something. I'm not a toy, I'm a human. I'm not here to be used. I am a grown woman, and you need to figure your shit out.
None of these quotes show that she's actually smart, but that's not the point. She's clearly ambitious, and doesn't need to prove her intellectual prowess. But isn't it nice to know that she wants to?