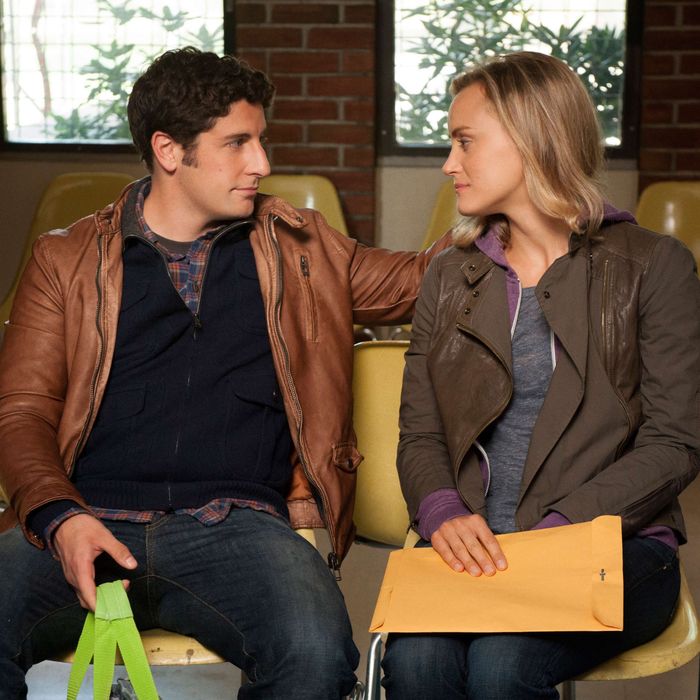 Photo: Barbara Nitke for Netflix
When Netflix prison drama Orange Is the New Black's blonde, WASP-y heroine Piper Chapman arrives at Litchfield Correctional Facility, she is met with leers and catcalls from inmates who line the walkway. It's a prison movie cliché: a slow pan over the lascivious grins unfolding on hardened faces. It's also totally accurate.
"Here's the wolf whistles — Hey, mami! — everyone hanging out the windows … " recalled Yolanda Morales. Morales served three years on the same charge as Piper — conspiracy — and is blonde, although not a WASP. "Once the bus pulled in and you got cleared through everyone would be on the gates looking at you," added Virginia Nepa, who served seventeen years.
It's one of many scenes that rang true to the five formerly incarcerated women who attended a screening of Orange Is the New Black organized by the Cut at Fortune Society, a "one-stop" reentry services nonprofit in Long Island City, Queens. Jenji Kohan's critically beloved Netflix series is based on a memoir of the same name by Piper Kerman — now a prominent advocate for criminal-justice reform — so it's little wonder it gets so many of the details right. More impressive, Orange Is the New Black walks the tightrope of making incarcerated life accessible to outsiders — through the touristic, writerly lens of Piper — without condescending to demographically representative insiders. When a fictional prison guard loses track during daily "count time" and must begin his prisoner head count anew, the women from Fortune Society groaned in unison. Another correctional officer's salty "Good luck with that" — that being Piper's non-incarcerated fiancé, Larry — was met with head shakes and one loud "too true."  The scene that got the loudest laughs was one that revealed the versatility of maxi pads, which the show's prisoners use as an all-purpose cleaning supply and, in one case, makeshift shower shoes.
Maxi pads aren't the only source of prison ingenuity. A roll of toilet paper can work as a speaker, explained Nepa, who is now Fortune Society's director of family service. Red M&Ms are used as lip stain, according to Morales. But maxi pads are truly the predominant craft material at hand. "They make dildos with them," said Michelle Vaughn, who was released 70 days ago and has done time in the Danbury federal correctional institution that once housed the real-life Piper. "Roll them up, put them in a glove."
The women recognized the racial boundaries that divide the show's prisoners into cafeteria tables and cliques, though their own social lives were sometimes organized otherwise. Vilma Ortiz Donovan, with her dark skin, Irish surname, and fluent Spanish, didn't know where she  fit in. She mostly stuck with the women who lived nearby, in her cube. Vaughn observed that prisoners self-segregate not just by race but by crime. "If you're a drug offender, you hang out with drug offenders. If you're in for a money crime, people think you're intelligent. Then you have the sex offenders that you really don't mess with at all." (Which is not to say you're allowed to ask what a fellow inmate is in for; that's another prison trope Piper got right.) Nepa added that racial tensions were heightened at New York's Albion state prison thanks to its correctional officers, who were, "as some say, white crackers."
Romantic relationships give the show its pulpier side, but they were a source of drama for these women too. "I had a lover, so I really didn't have time to have a prison family," Vaughn said. "She was my family, she was my friends. Everybody was outside of us." Vaughn's lover was due home in 40 days, but she's not sure she will continue the relationship.
"Run," Morales advised. While incarcerated, she was involved with a woman who was intelligent and caring. "I thought, Wow, this is great, we can make this happen," Morales recalled. "But what a nut job, when she came home. I was like, 'Who the hell is this individual?'"
Orange Is the New Black's frequent flashbacks provide depth for its formidable ensemble cast, but they might erase one of the hazards of forming relationships inside: You never truly know anyone. "Prison is the largest stage ever," Morales said. "And the Oscar goes to … Everybody is somebody else." Women are not just "gay for the stay," added Donovan. They're religious for the stay. Degrees are invented.
As for maintaining a romantic relationship on the outside, the women were less optimistic than Piper and Larry. Vaughn's partner disappeared "like, immediately," making only two visits. For Donovan's second bid in a state penitentiary, she knew better. "I broke it off because I knew," she said. "It was hard, but there is no way." Laura, a three-time felon now living in Fortune Society housing, eventually decided a relationship with her son's father was more trouble than it was worth. "I was embarrassed," she said. "Your hair looks like a mess, and you're wearing that awful gray potato sack, and then you wait so long just for a one-hour visit."
Most of the women remained close with one or two women from their time inside, though parole regulations that restrict communication between those released and still inside posed a barrier. "When I got home I said, 'I'll write you' and they said, 'Everybody says that,'" Morales said of two friends. "But I did, I took care of business. When they came home we all met up and had a reunion."
"Ninety-five percent of the people you never want to see again, though," Vaughn quipped, to laughs.
"99.9 percent," Morales added.
Orange Is the New Black might be impressively faithful to the experience of prison life that Piper Kerman chronicled in her memoir—but Kerman's experience, however accurately depicted, is glaringly rare. Most women don't go home to a man and a career. "Prison doesn't prepare you at all," said Donovan, who quickly relapsed before taking advantage of Fortune Society's offerings. She is now a receptionist at Fortune Society and a playwright. But the two women not currently employed by Fortune Society itself were still looking for work. "Everybody's story doesn't end the way Piper's does," Vaughn warned. For them, life inside isn't fodder for a memoir with premium television option. It's years lost, chaos at home, and an obstacle to employment. Morales, who is now a director of transitional services at Fortune Society, left prison with a bachelor's degree and one year of a master's in social work under her belt, but she still "didn't know how to answer that conviction question," she said. "I had to create who I was now."