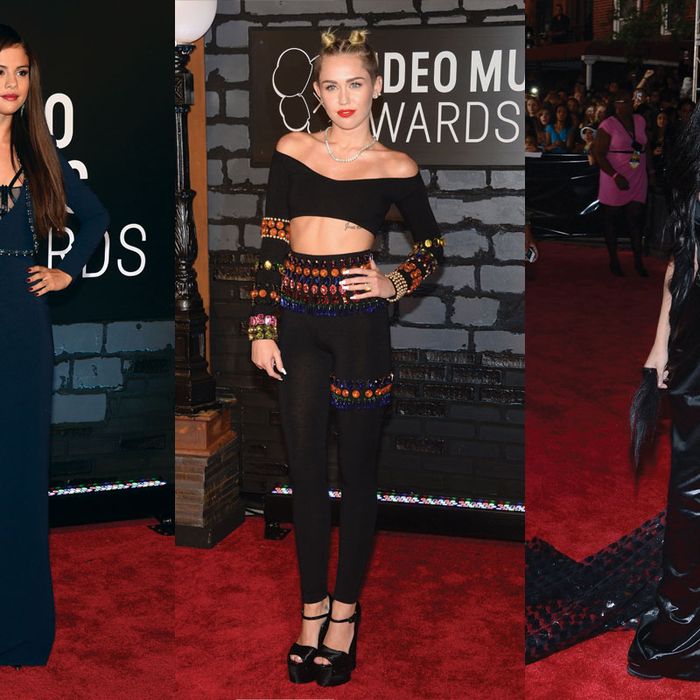 We knew Sunday night's MTV Video Music Awards were going to have big moments — the 'N Sync reunion alone blew up both Twitter and the loins of at least two generations — but after a lackluster few years of VMA fashions, we were concerned the red carpet would be a dimly populated yawn. We needn't have fretted: Celebrities apparently took Justin Timberlake's presence and Lady Gaga's return to action as some kind of call to crazy arms. Here are our favorite wildly weird outfits from last night's VMAs — but only the red-carpet part, because frankly, we're still trying to process what happened onstage with Miley Cyrus, and that might take a few weeks.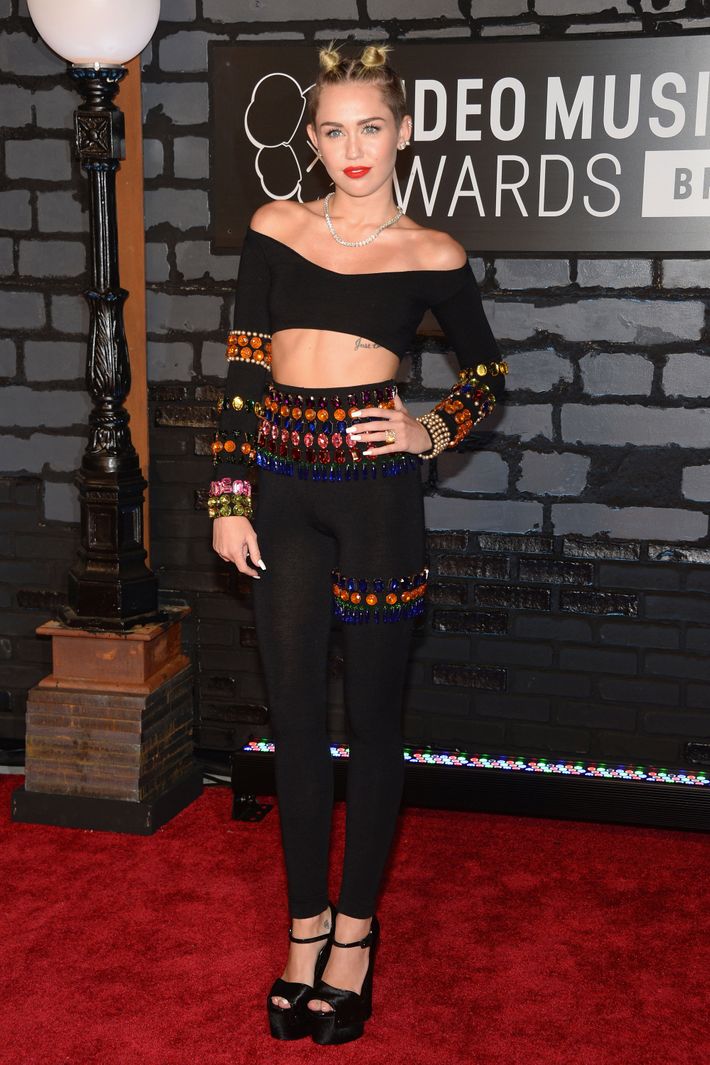 Miley Cyrus
Because obviously what the VMAs are missing is a low-rent Gwen Stefani impersonator straight from an uncontrolled binge in the bead aisle of her local craft store. Say a prayer for the hot glue stick that died for this look's sins.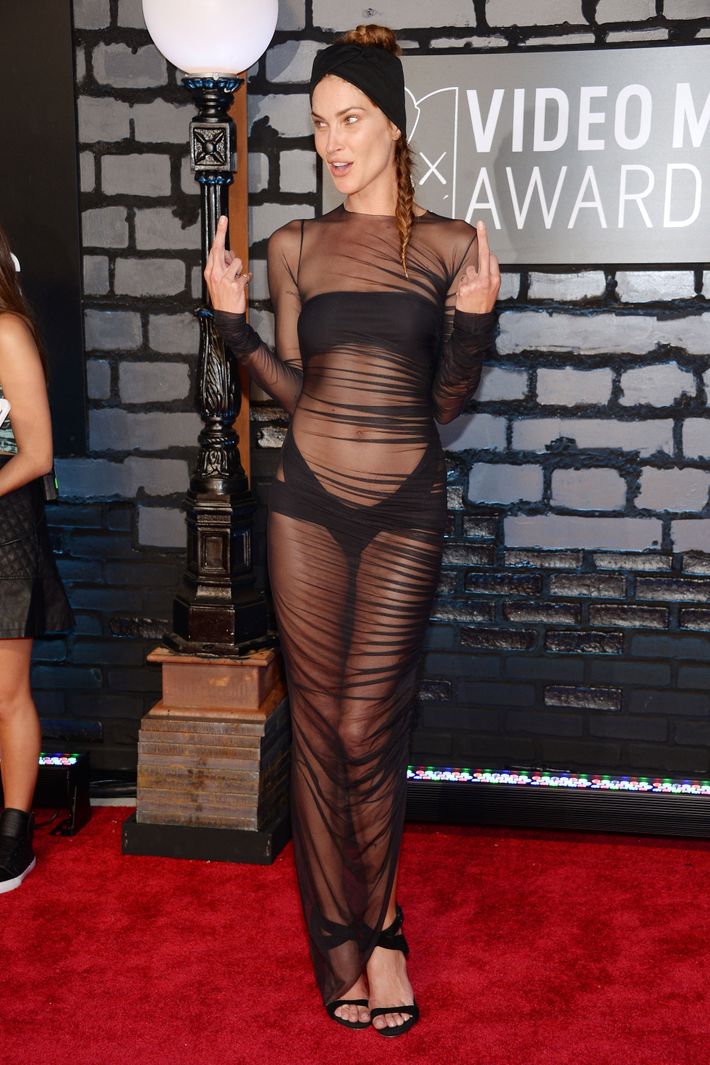 Erin Wasson
Rumor had it that Erin Wasson hired a new stylist sometime after last year's Golden Globes fiasco of nudity. If so, that stylist must be on vacation, because this barely even qualifies as clothing. Additionally, we wish someone would send out a memo clarifying that flipping the bird on a red carpet doesn't make you look like a rebel; it makes you look like Avril Lavigne.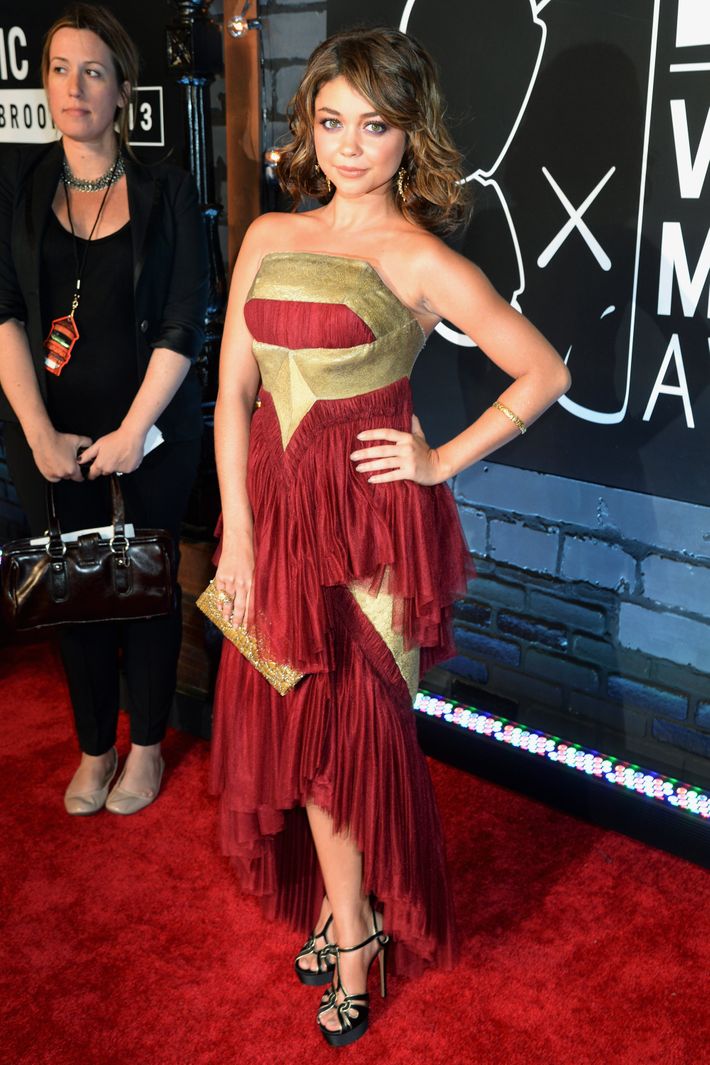 Sarah Hyland
Sarah looks like she got tangled up in a curtain while trying to eavesdrop on the 'N Sync reunion rehearsal then had to pretend it was actually her dress. We hope she at least got some juicy JC Chasez gossip for her troubles.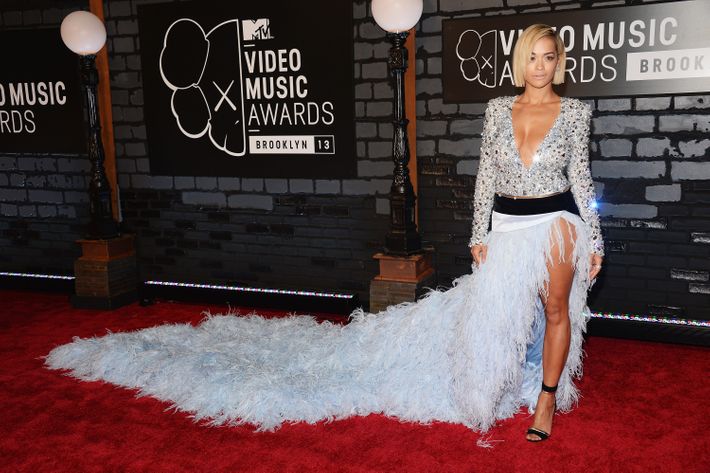 Rita Ora
This is what you look like the morning after you accidentally hurl your pants into the fire during a passionate assignation atop a fancy throw rug, which you then are forced to repurpose for your Walk of Shame.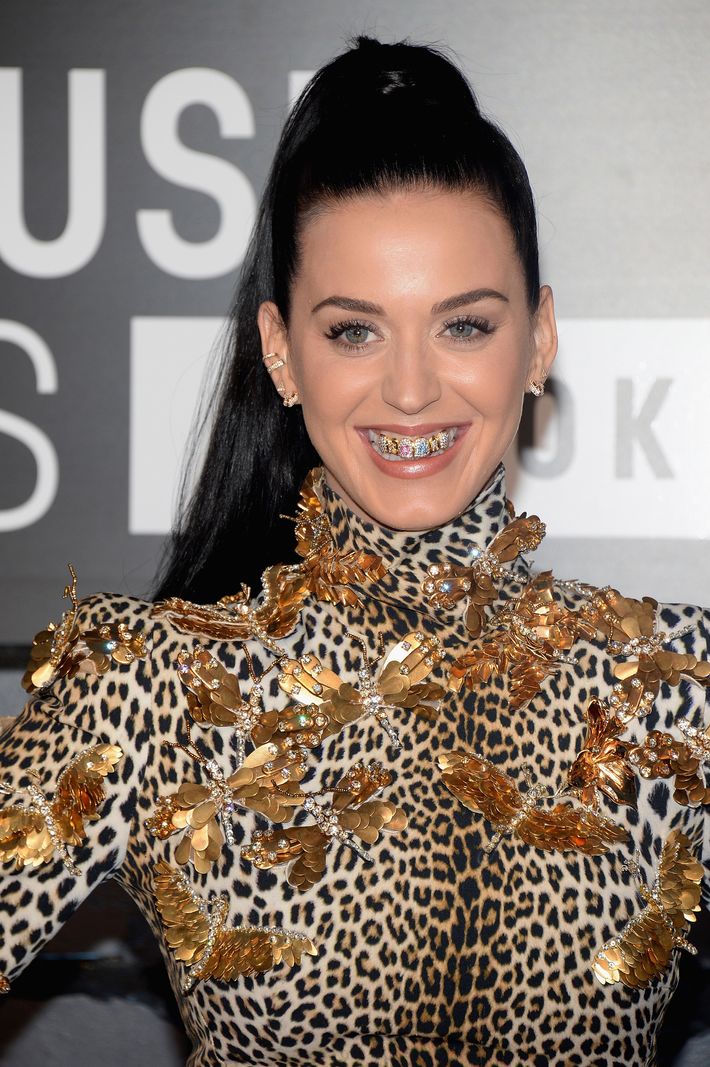 Katy Perry
Forgive us for showing our age, but why is it cool to walk around looking like you ate the table by the register at Forever 21?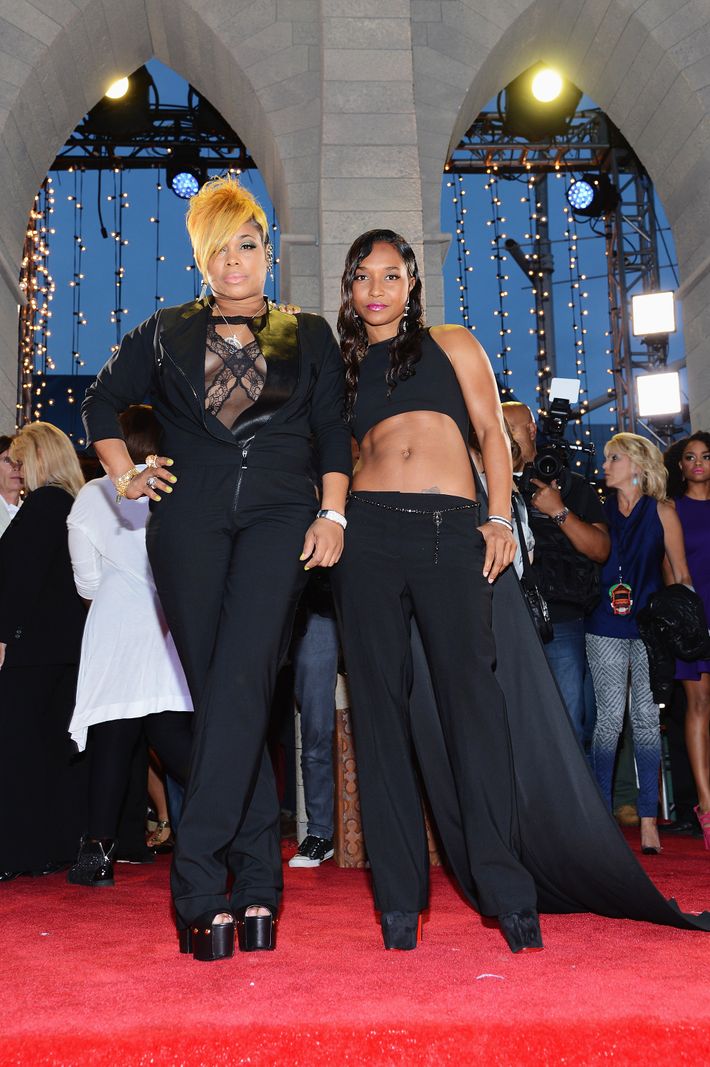 T-Boz and Chilli
T-Boz looks like Tweety Bird in a tuxedo-ized onesie, but between the bare stomach and the butt-cape, we're really concerned that Chilli is under the impression that it's 2004 and she is Alicia Keys.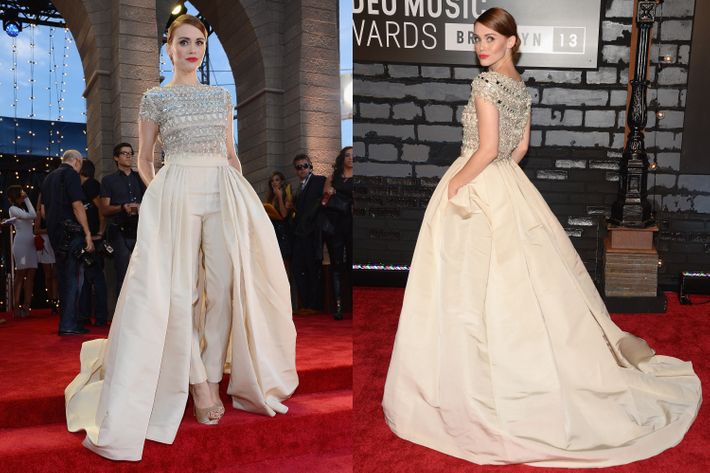 Holland Roden
This poor dear clearly hit her head on the coffee table and woke up under the impression she was in Cannes.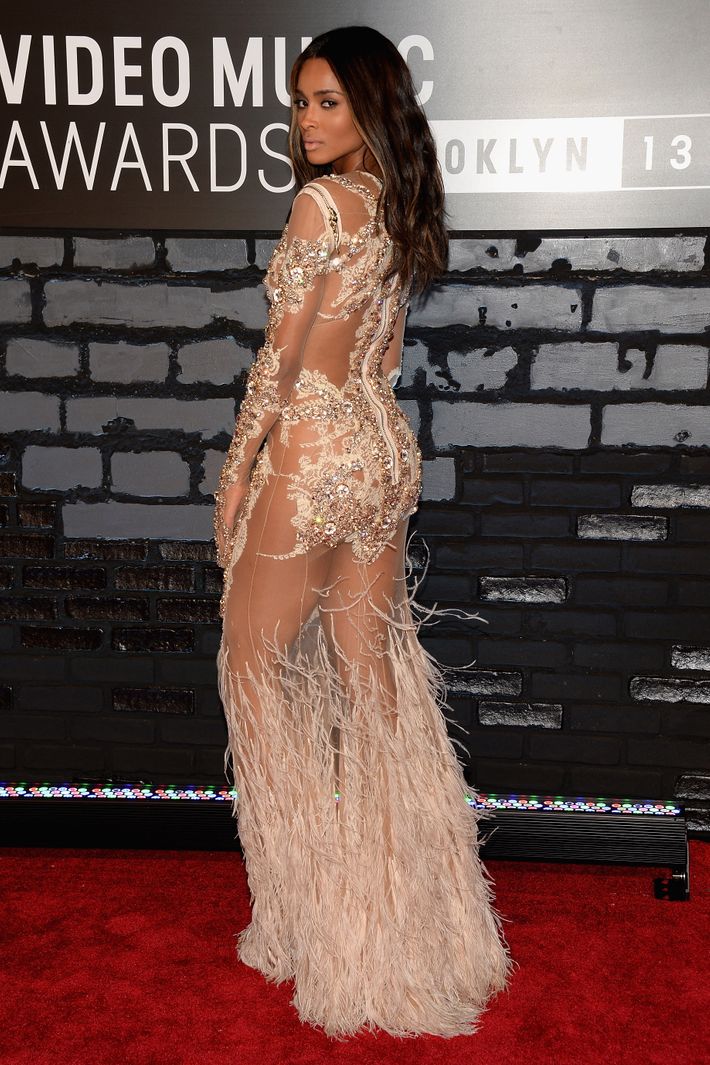 Ciara
And Ciara woke up and thought, "I'm going to borrow Beyoncé's Met Ball gown from two years ago and then scare the bejesus out of it."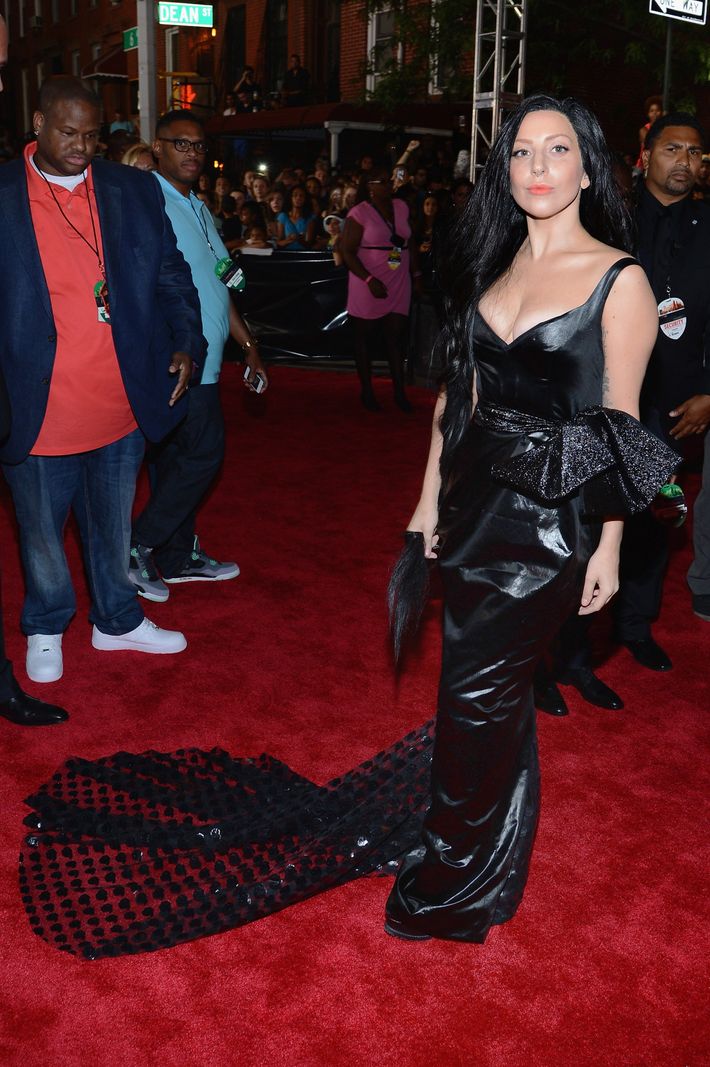 Lady Gaga
Perhaps the kookiest thing of all is that Lady Gaga showed up wearing a dress that is basically … normal. No meat, no eggs, just a little black (latex?) dress that Elvira probably did better twenty years ago. Sure, you can see the glue attaching the wig to her head, but look at it this way: Gaga is doing her part to make Halloween costumes just a little bit less naked this year. For that we are eternally grateful. And warmer.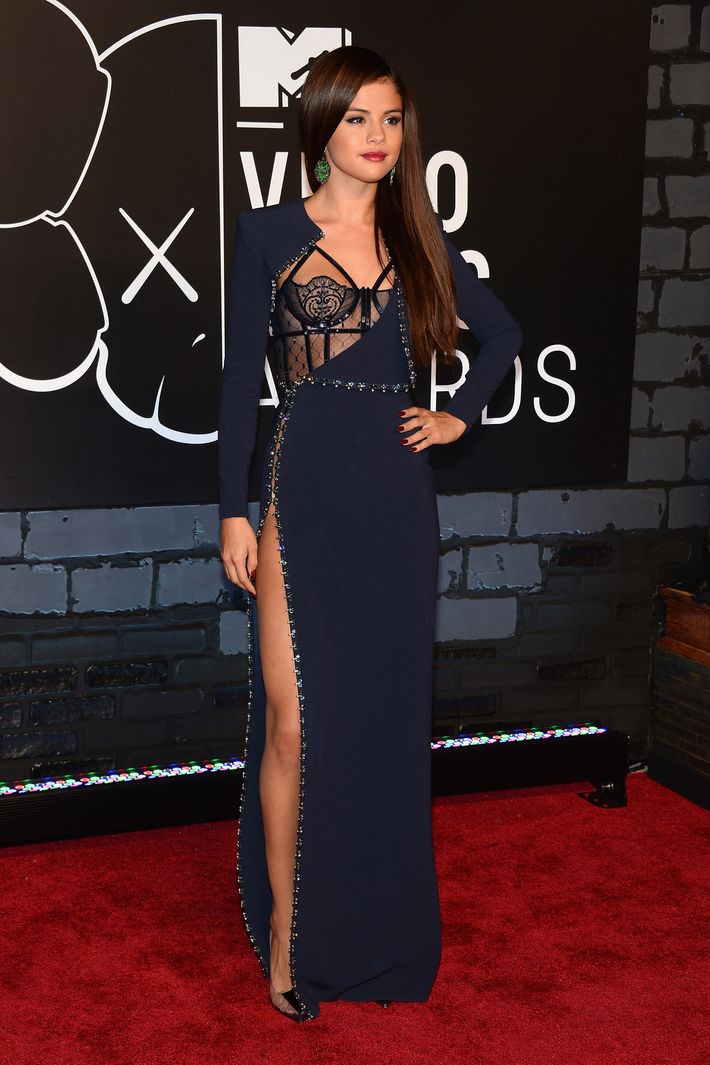 Selena Gomez
We wish we could give her credit for the fact that, from afar, the embroidery over Selena's breast resembles Tweedledee. If we thought that were at all intentional, it could read as a subtle eff-off to the Disney machine that made her. As it is, though, she just looks like she's doing a bizarre salute to Justin Timberlake ripping off Janet Jackson's top at the Super Bowl. We know he got the VMA Legend Award and all, but the standing ovation was probably sufficient.