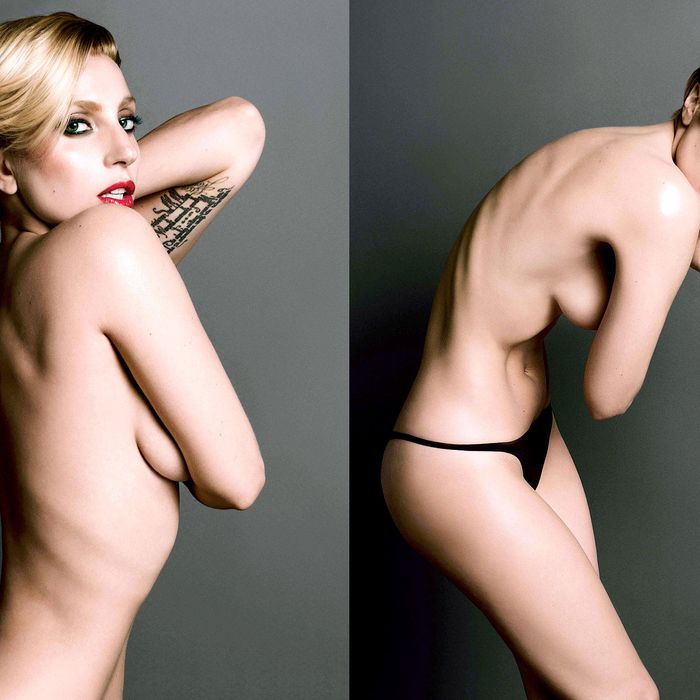 Lady Gaga.
Photo: INEZ & VINOODH/V Magazine
All four covers of the forthcoming V magazine feature Lady Gaga with short blonde hair, shiny lips, and smudgy cat-eye makeup. The aesthetic is slightly different from her recent ARTPOP makeover, perhaps because it was probably shot a few months ago, but there's a similar trend of stripping down — she doesn't have anything weird glued to her face, for example, and her hairdo is minimal. In the corresponding spread, she wears nothing but a tiny black thong and talks about her eating habits, or lack thereof. Via Us Weekly:
I don't eat breakfast… I drink Pellegrino, I'm a good Italian girl. I have Pellegrino with lime and a smoke. And I just lie there. Sometimes maybe green tea. I just sit there and look at everything. I get mad at the work, I get frustrated, I start getting really sweaty. I have a very emotional experience when I'm creating.
Us also notes that Gaga is visibly slimmer than she was last winter, before she broke her hip and underwent surgery:
The images prove that the Grammy winner has shed all of the excess weight gained (and much-discussed) last year: In the somewhat shocking snaps, she flaunts a concave stomach and noticeably bony back. 
Ah. We were wondering how long it would take people to bring that up.