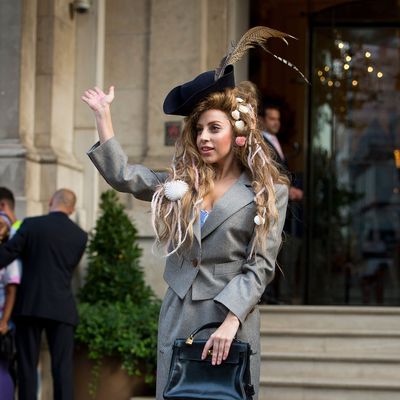 Photo: Ben Pruchnie/Getty Images
You know how Lady Gaga got a "stripped-down" makeover and was going out with natural-looking hair and plain black outfits? Well, if you didn't, you've missed it already. She's officially phasing back to Full Weird. The VMAs were an obvious starting point — you could even watch the evolution taking place onstage. She began her performance in a stark white robe, her face surrounded by a blank square canvas, and then morphed into a willowy blonde with a seashell bikini, just like in her "Applause" video. In keeping with this transition, her latest "look" involves underwater elements. Today, she left her hotel in London in a Captain Hook hat and with starfish in her hair. Crazy Gaga is back!
To deconstruct: From the neck down, Gaga doesn't look weird at all. She's wearing a gray wool skirt suit, cut to show her lacy powder-blue bra, and Casadei heels (not even a platform!). But then, above her shoulders, good gracious: It's like she put the contents of a tide pool in her wig, plus pipe cleaners.
Common themes in the latest batch of outfits, which include the bird's-nest wig and trash-bag pants she wore last night, involve the following: colorful lace bras (as opposed to black ones, which are so three weeks ago), starfish, and mollusks.
But anyway, were you really expecting her to keep up that makeunder for long? It was, like all her looks, just a carefully constructed phase — a costume in and of itself.