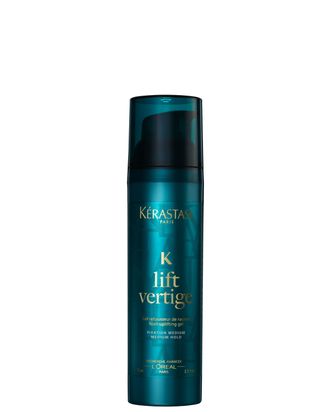 With a name like Root Uplifting Hair Gel, you imagine yourself winding up with a Zack Morris hairstyle. But the sleek, aqua-blue bottle above is part of Kerastase's Couture Styling collection, the newest and fanciest of products from the French hair-care line; they won't lead you down the path of boy-band hair. It was my unflappable loyalty to Kerastase that led me to test this goo over the weekend.
Most root-lifting products are packaged in easy-to-use spray bottles with nozzles that provide targeted applications directly into, well, the roots. This particular gel-based formula is viscous enough that it needs to be pumped into your hands, then rubbed into damp hair along the scalp and root area. This was alarming, because you're basically spreading gel all over your follicles; the last time I took some gel to the head was when I had to perform in a tap-dance recital, which called for a shiny turquoise leotard and a super-slicked-back bun.
After rubbing the stuff into my scalp as best I could, I used the brushless blow-dry technique and blasted my roots with hot air. At first, the hairs around my face stood straight out, à la Connie Chung; while the root lift worked, I got a little more oomph than I bargained for. To bring down the overly amplified look, I worked in some hair oil with my fingers and, soon enough, I had a pretty decent-looking blow-dry job with touchably soft hair. Zero stiffness, no crunchiness. Just swingy, voluminous hair.
Ultimately, I still prefer a root-lift product in spray form, mainly because I don't like getting my hands gunked up with product. But for those who want some serious red-carpet glamour hair, then this will do the trick.