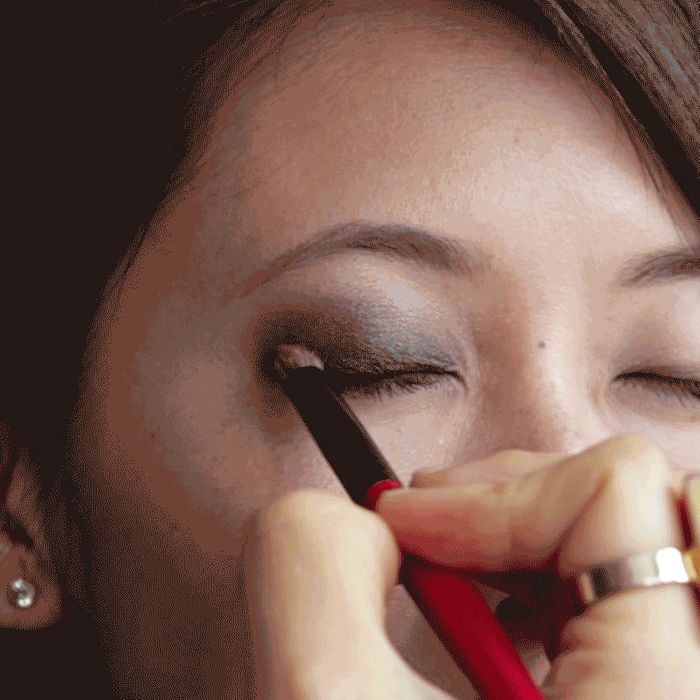 In this last eye-makeup tutorial for almond-shaped and hooded eyelids, artist Munemi Imai shows us how to create a smoky-eye look without using black eye shadow. A brown and taupe combo still lends eyes a dramatic effect without dipping into panda territory. This same technique can be used for any palette of complementary colors, but in this case, Imai opted for a chocolate-brown base (Sue Devitt Laos pencil), taupe shadow (Laura Mercier Topaz), silver and black eye colors (Urban Decay Smoked Asphalt and Blackout), and an eye pencil (MAC's Eye Kohl in Smolder). She finished the eye with Armani's Eyes to Kill mascara and Dior's pearlescent and silvery shadows for highlight effects.
Step 1: Using an eye-shadow pencil, scribble over the entire lid. For this look, you can take the pigment above the roundness of the eyeball since a smoky eye calls for a little more drama than your everyday eye shadow.
Step 2: Tap a brush into taupe shadow and blend it over the pencil, rounding out the shape of the shadow over your eyeball.
Step 3: Add dark-silver powder shadow on top of the brown shadow, blending out to the outer edge of the eye. Tip: Add extra shadow closer to the lash line to create depth.
Step 4: Draw on black liner to the upper lash line.
Step 5: Apply black powder shadow over liner to intensify the line using a flat bristled brush.
Step 6: Lightly diffuse black shadow out into the brown.
Step 7: Fill in water line and under lower lashes with a black pencil; blend.
Step 8: Add highlighter to the inner corner of eyes (silver) and under the brow bone (pearl).
Add a swipe of mascara, and you'll have the finished look.