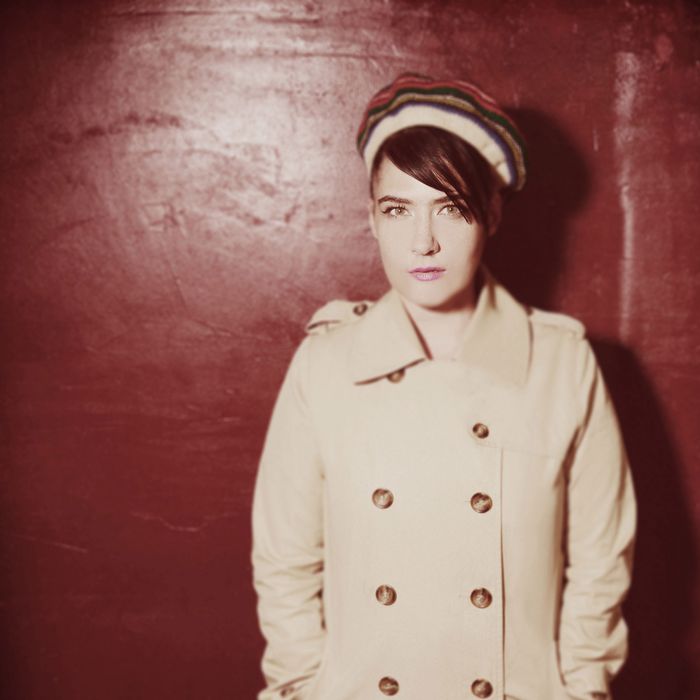 Kathleen Hanna has decided to do whatever she wants. Which might seem like a ridiculous thing to say: Hasn't the original riot grrrl, the lead singer of first Bikini Kill and then Le Tigre, always done exactly what she wanted? But last week, when Hanna took the humble stage at Williamsburg's Union Pool with her newly resuscitated band, the Julie Ruin — wearing a girlish A-line dress, plus her trademark "Minnie Winehouse" high ponytail and bangs — it looked a lot like the 41-year-old icon was finally doing whatever she wanted to do.
Hanna first conceived of the Julie Ruin in 1997 as a solo project, but the revived version is a collaborative effort that heralds the beginning of what Hanna calls her "swinging time." Run Fast, due out next month, serves as both a personal diary and an intellectual discourse, all while letting Hanna's yelp/shriek of a singing voice marinate in the driving guitars, synth loops, and sixties girl-group pop she's perfected. Anticipation of the album is mounting, but Hanna says she's already satisfied with the results. "As long as I like it, what does it matter?" she told the Cut. "And I like it."
Maybe you can credit that conviction to a recent brush with mortality (her near-fatal bout of Lyme disease, which figures prominently on the album as well as in the forthcoming documentary The Punk Singer). Or maybe it's because, after leading a movement, she no longer feels responsible for it. At this stage, Hanna has embraced her legacy and let riot grrrl evolve without her. And evolve it has. Pussy Riot, whom Hanna vocally supported, started their own riotous punk revolution; Hanna has an army of nostalgic fan girls and boys who still sing along to her songs at shows; and the 16-year-old duo PetalWar, Hanna's opening act at Union Pool, represent a new generation of mini-rioters just wailing their very first anthems. Hanna spoke to the Cut about freeing herself from icon status and why the new riot grrrls are better than the last.
You resurrected the Julie Ruin this year. Why did you decide to bring back a project you started in 1997?
I started the Julie Ruin then because my band Bikini Kill was in a state of disarray. We weren't really practicing, and I didn't really have a creative outlet because we weren't writing new songs, and that was totally frustrating. With that in mind, I guess I revived it now because I have that same feeling. I was really known for one thing, but I wanted to break free of it. I wanted to not be a control freak.
What's different this time?
Now that I'm someone who is not 20 years old and in the music world, I really don't have anything to fucking lose. A lot of people aren't going to give a shit because I'm not the fresh young thing. I kind of have a world of freedom.
Isn't that always the way you've approached music? Does it affect your sound on the album?
I really had no expectations. I know that sounds super corny. But sonically, I wasn't like, "It needs to sound like this or like that." You know, I like loud snare, and I like really treble-y guitars, and that's just never going to change.
How has your stage wardrobe evolved?
In Bikini Kill I tried to do a lot of stuff with gender. I would pick up a pirate costume that was a vest with a hairy chest, and I would cut it and wear it as a shirt. I had a dress that had a man on it — the Chippendales guy — and he was the man within me. I was trying to discuss through fashion the idea that people's identities change every second of every day, and masculinity and femininity are really constructs. The qualities attributed to both are really found in everybody. That was Bikini Kill. For the first Julie Ruin project, I got sick of people thinking that I didn't know how to read or something. At that time, I was reading a lot of French feminist theory, and it was sort of about women creating their own language. I was trying to think, What if Julia Kristeva's work was a song? What would it sound like? That's kind of where the pictures of me in front of bookshelves reading  a feminist book with a schoolteacher outfit on kind of came from.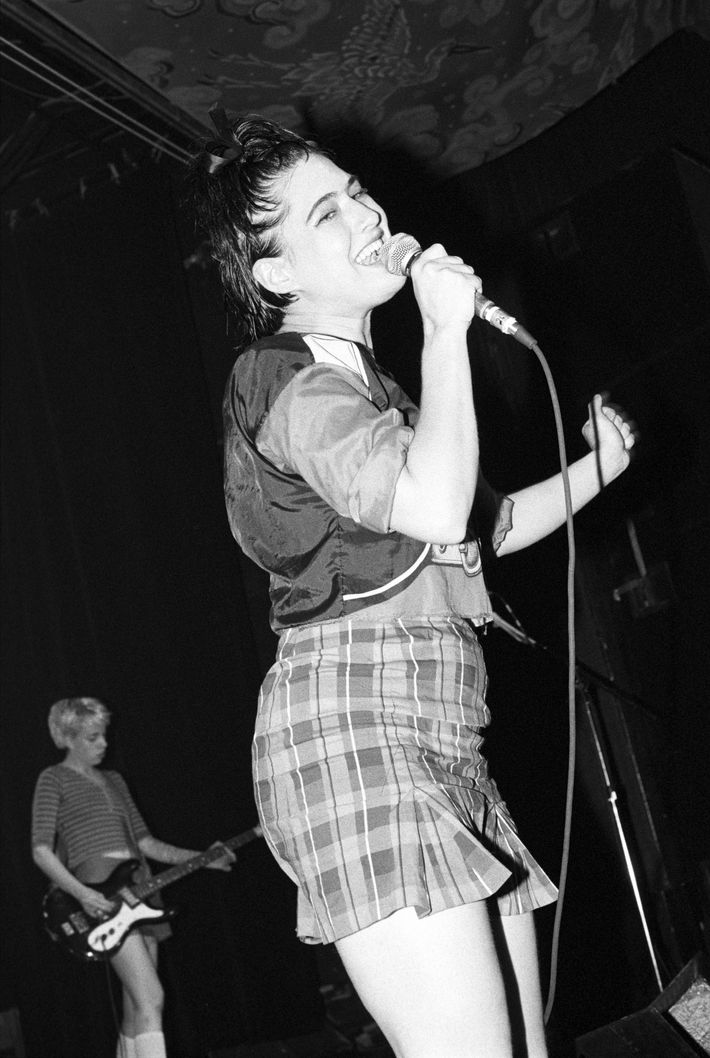 There's been a lot of talk about the riot grrrl legacy this year. How has it been to confront "Kathleen Hanna, Idol"?
Well, with the NYU archives, there are some pieces from fanzines I did in the nineties. I really had to grapple with what I made back then — I kind of had to face the good, the bad, and the ugly. I left a lot of crap in the archive that is really embarrassing. For anyone who wants to see really embarrassing stuff that I did — it's out there. I feel like because of The Punk Singer, the documentary about me, the NYU archives, now the actual work is out there for people to do what they want with. Now I can just move on and do whatever I want. If people are like, "Oh, you're an icon," then whatever. But who thinks of themselves like that? It's not like I have posters of myself on the wall.
Who were you back then? How have you changed?
You know, there was a big period in Bikini Kill where we didn't do anything at all. Not because as a band we didn't feel like it, but because I was really pulling away from doing my own art in favor of helping everyone else with theirs. I had a very guilty conscious about being thought of as the leader of riot grrrl when so many people contributed to it. The guilty liberal in me, you know? I really just tried to say the right things all the time and tried to step out of the limelight. Now I'm like, "Whatevski." I deserve attention, I think my work is worthy of attention, I think art is important. I think that has been proved by the track record of the things me and my friends have made having such an impact. While I still feel very much a part of a feminist community, and I try to help out where I can with other women's projects, I don't let it interfere with what I'm doing. I'm able to say no. Because I care about my own work a lot more than I did then. We didn't take it seriously. We were just doing shit in our town for our friends. The fact that it went beyond that at all is still kind of shocking to me.
How has the landscape changed?
It's exciting; there is a lot going on. There is a new group that's called People of Color Zine Project. There's an amazing movie collaboration performance group called Black Salt that's working out of Oakland. They're really incredible. I think there are a lot of projects that aren't called riot grrrl, but a lot of people are influenced by it. Maybe who are even influenced by hating it — but the people who critique it and say, "Here are the flaws," that's actually a very generous thing to do.
The movement has gotten a lot of criticism over the years. How has it changed for the better?
To make riot grrrl move into the future in a new way with a bunch of new names and a bunch of new energy, younger people have to learn about it and apply it to their own lives and own modern conversation. And they are. The conversation is much more modern than the one we were having then because we didn't have a crystal ball. "Transgender" wasn't even a term in the nineties. There is a lot of conversation happening now about being more inclusive of trans people and rectifying the criticism that the scene wasn't inclusive of women of color. I think all of those conversations are really wonderful. Hopefully the critique will create something.