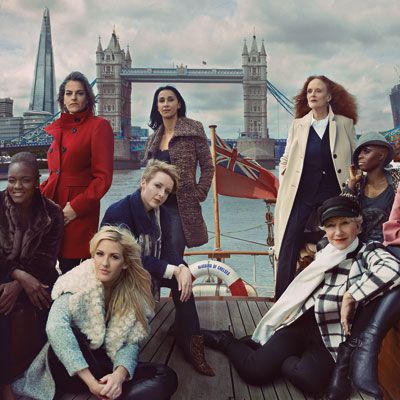 Grace Coddington for Marks & Spencer.
Photo: Annie Leibovitz for Marks & Spencer
British department store Marks & Spencer is undergoing a big overhaul after suffering from poor sales. And what better way to trumpet their Anglophilic makeover than with a crisp, expensive new campaign chock-full of recognizable British faces who don't normally model clothes? Shot by Annie Leibovitz, the ads star women like Helen Mirren, who wears cream-colored tartan and a jaunty newsboy cap, and Karen Elson in a rosy pink coat, both aboard a boat in front of the London Bridge. Other faces include U.K. heroes like Helen Allen, who was voted "nurse of the year" by the British Journal of Nursing in 2011; Jasmine Whitbread, CEO of Save the Children International, and Katie Piper, who was the victim of a vicious acid attack in 2008 and has since become an activist and philanthropist.
But the winner of this portfolio is flame-haired, 72-year-old Grace Coddington, who quietly out-poses everyone as she looks off into the distance, contemplating the horizon like the salty skipper she is. Coddington has appeared in several editorials over the past couple of years, including this wonderful i-D cover, but this marks her first campaign in decades, possibly even since her modeling career was cut short by a car accident when she was 26. Welcome back, Grace. You look better than ever.