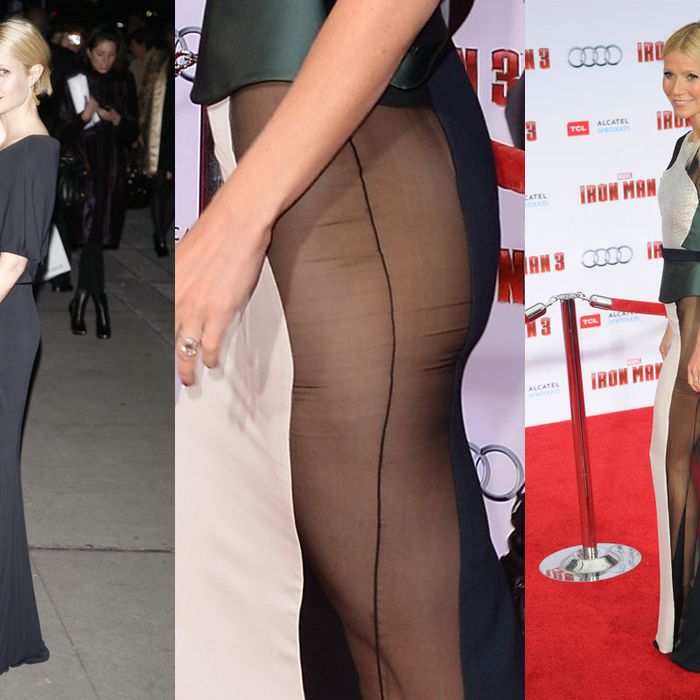 Gwyneth in 2006; Gwyneth in 2013.
Photo: Getty Images
Fitness guru Tracy Anderson, the woman behind Gwyneth Paltrow's "22-year-old stripper" butt, tells Into the Gloss that neither she nor her star client came by their celebrated bodies easily. For starters, Anderson was "chubby" in her twenties, despite chronic overexercising. Gwyneth, on the other hand, encountered a different problem after the birth of her second child in 2006 — a pitiable-sounding condition called "long butt." (The best picture we can find from this time is shown above, left.) Anderson describes their first meeting:
She said … "I just had Moses — and I can't get this weight off. I've never had a problem like this in my life." She had 35 extra pounds on her. Her butt was long and she had outer thigh problems. Gwyneth is lucky because she's really tall, so she can hide it really well in clothes, but she had significant problem areas. I felt so badly for her, and thought I could really help. So, I agreed, and she did everything that I asked. Now, seven years later, she looks younger every year; she's totally transformed. And she really does the work. She and I became business partners, too, because she said, "Every woman has to have this. It's not fair. I've tried everything and nothing works like this. You're a real gift.'

A shorter butt is a gift indeed, apparently! But really, what is a "long butt"? Most likely, it's a rather flat bottom that melts into one's thighs, also known as a nonexistent (or skinny) butt. Paltrow has always been very slender, no matter where those mysterious "extra 35 pounds" were "hiding," so chances are she just had a small ass. It happens. (Side note: the Internet informs us that "long butt" is also defined as an unfortunate by-product of high-waisted pants, which is interesting but seems unrelated to Gwyneth's problems.)
But if Gwyneth's "long butt" was so bad, then what kind of butt problems are the rest of us sitting on? A quick survey of Cut staffers brought up many butt adjectives, some of which are quite common ("square" butt, "shelf" butt, "bubble" butt, "pancake" butt) and some of which are not ("tofu" butt, which is flat and square, "ham hock" butt, which is what it sounds like, and finally, "turducken" butt, which can only be achieved by eating actual turducken). By comparison, doesn't "long butt" sound nice? Even at her most lamentable moment, Gwyneth was still better off than the rest of us.