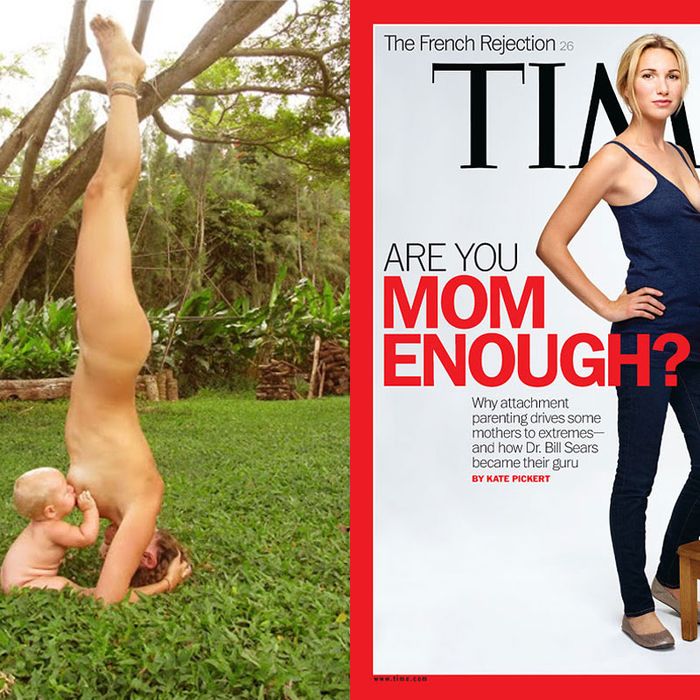 Photo: http://daughterofthesun77.blogspot.com, Time
Meet Amy. She lived in a clothing-optional commune in Hawaii back in 2011 when one day she was upside down and naked, and her baby daughter Naia crawled over for a snack. The ensuing photo turned into a yoga and attachment-parenting meme. Naked Breast-feeding Yoga Mom is the crunchy female answer to Breast-feeding Time Magazine Mom, basically.
Today Yoga Dork directs us to parenting blog Baby Center, which interviewed Amy about the story behind her famous photograph:
The truth is we were living on a small community in Hawaii where our land was clothing optional and yoga was/is a necessity! I was just doin' my daily flow when the little sweet pea came to sneak a suckle. Papa had her out in the grass with him and she just couldn't resist! This happens all the time by the way. When a breast is out and baby is around, they are going to try and get it anyway they can! I have been blogging for years now and this photo was just a simple share of a beautiful captured moment.
Her husband deserves a Pulitzer Prize for Yoga Photography. Anyway, since then Amy has been busying weaning Naia, "embracing my inner flame," and enjoying the fame afforded to the world's foremost practitioner of naked breast-feeding yoga:
The yoga community and earth mamas loved it! Women who didn't seem to enjoy breastfeeding or more of the conservative crowd thought it was the weirdest thing and just couldn't wrap their heads around it. I enjoyed hearing all sides of the spectrum as it reminded me that we are all different and if anything it may have opened the eyes and hearts for some who didn't think multitasking to that level was possible! No regrets about posting the photo whatsoever.
Amy has a blog called Daughter of the Sun, an Etsy store specializing in handcrafted textiles, and an Instagram account that I highly recommend following. Her Hawaiian commune has unfortunately disbanded, but the good news is that Amy and family are moving to New Zealand in the fall. I'm picturing naked yoga handstands, in front of waterfalls.