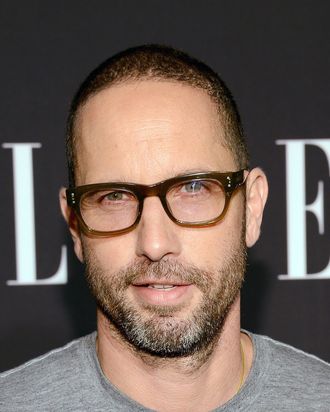 Photo: Larry Busacca/Getty Images
Jewelry designer Alexis Bittar turned a Lucite earring into an accessories empire. The designer, who won the Accessories Council of Excellence award for Rising Star in 2004, has opened seven boutiques since his company's inception in 1992. And this November, it will come full circle when he receives the 2014 Ace Award for Brand of the Year. He talks with the Cut about staying relevant, what he has planned for his spring collection, and how not to deliver an acceptance speech.
Congratulations on your ACE Award for Brand of the Year! How does it feel?
I appreciate it. It was a total surprise, actually! I didn't see it coming. It's incredible to have built a business in the way that I did, which has been organic and truly from the roots, so to speak. To become a brand, not only a brand … but Brand of the Year. It's surreal.
How does it compare to the first time you won an ACE award?
I gave the worst acceptance speech ever. Like, of all time. Seriously. The guy from the New York Times was like, "Holy shit, that was unbelievable." Because I got up onstage and, you know, it was the first time I'd won an award. I didn't do any sound check, so I didn't expect my voice to come out so loud. So I said thanks, and everyone almost looked like they were blown away with air. And then I was like, Oh shit. And then I said, "Thanks a lot." That was it. That was my acceptance speech.
The brand has been around since 1992, how has the design ethos evolved?
I didn't start it with a global perspective or global mission statement. I really just started it because I love what I do and I love the craft. I love design, I love art. That's how I started, and I think that the root of getting a sense of artistic awe slash consumerism has been kind of at the base of everything that I attempt to do. I don't think I've succeeded all the time. We finally have a brand mantra: the art of provocation. When I grew up in New York, Henri Bendel, Artware, Takashimaya were stores that really straddled art and fashion. I believe in fusing those two. People need to be constantly inspired to consume, and more now than ever, I think. That's the world we live in.
Where do you find your inspiration?
I've become somewhat of a jaded New Yorker, and I've been in this business now for twenty years, so I feel like I'm pretty jaded, from everything. Like, looking at fashion magazines, it's like, I've looked at them for so long, I want to be inspired. Nature never ceases to amaze me. In terms of the veins on a leaf or the color of a flower. Nature's just mind-blowing. So I can never not be inspired by nature. I look at antiques. From Bauhaus to art nouveau to art deco. I was just in Berlin, and they had such a treasure trove of Bauhaus and deco. I look at what the fringe is wearing. There is this great party in Fort Greene park, Soul Summit. It's just such a great, underground scene, which in New York is getting harder and harder to find, to see what people are excited about, and how they're wearing things differently. Berlin was great for that, actually. I'd be happy moving there.
What's your single favorite piece of jewelry that you've designed?
That's a tough one. I would have to defer to the grandmother of all pieces, which was the first thing I ever designed, which was this glowing, Lucite, hand-carved … you know no one had hand-carved Lucite for ages. To me it was so beautiful, and I love the idea that a woman would wear a little glowing ball on her ear. I just thought it was so chic. I remember when I designed it and made it, I showed it to a few people and I covered my hand so no one else could see, because I just thought it was so incredible that I didn't want anybody else to see it, for fear that it was going to be knocked off. But I remember that excitement. I would say that earring spawned, twenty years later, a 400-piece collection every season.
What is new for spring?
I have three collections: Miss Havisham, Elements, and Lucite, and they all have three different personalities. There is the continued American Indian, thirties deco, Memphis-inspired jewelry. And then I did a whole aquatic fantasy. I love fantasy; I feel like it's endlessly fun. And this kind of underground sea with octopuses with moving tentacles. And then there's a floral subgroup, where the petals move, and it looks like one's falling off.