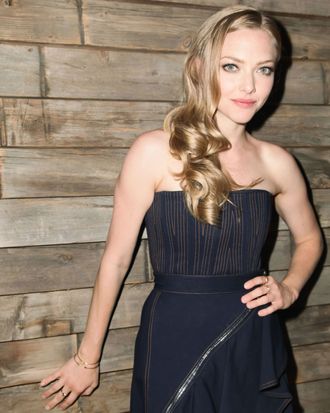 Photo: Matteo Prandoni/BFAnyc.com/BFA NYC
In order to slim down for her role as porn star Linda Lovelace in the nudity-heavy biopic, Amanda Seyfried lived on Les Mis co-star Anne Hathaway's "destitute whore" dried-oatmeal-paste squares and We're the Millers star Jennifer Aniston's  "naughty stripper" kale chips.
Just kidding: She didn't bother with a diet.
Asked about her Lovelace fitness and diet regimen, Seyfried told Us:
[Linda Lovelace] was really thin, but I don't have the same body type as her at all and if I stopped eating I would look gross … I don't want to promote unhealthy body types. So, yeah, I [didn't change my fitness or diet routine] at all.
Beyond, that is, the low-carb, high-cardio, occasional-raw-food-cleanse diet preferred by contemporary actors.
I'm really active, I try to run every day and eat well, but that's normal for me … I love running and being outdoors. I am trying to eat more vegetables, but it's really difficult … I overeat in the middle of the day. And I'm a sugar addict. It never changes … I try!