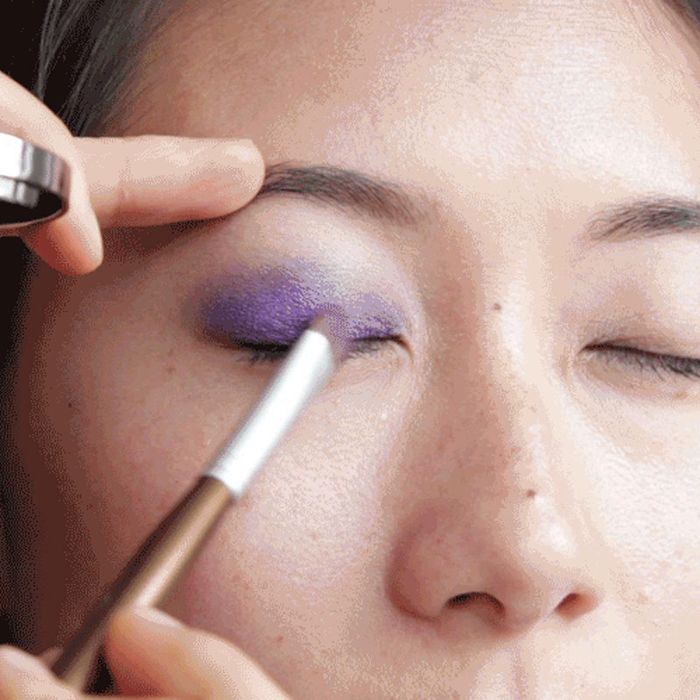 In this ongoing series, Japanese makeup artist Munemi Imai teaches those of us with almond-shaped and hooded eyelids how to best apply makeup. Here, Imai opts for a vibrant violet look using MAC's Pearlglider Eyeliner and Urban Decay's Flash shadow, but the technique can be used with any shade. The trick is to identify how far you can take the shadow on your outer lid before the look becomes overly dramatic and too round. The further out you go, the more Panda-ish it might appear. She also opts for brown eyeliner (Dior's Intense Brown) instead of black to soften the look.
Step 1: Fill in the eyelid area with an eye-shadow pencil to create a base that will hold onto powder shadow. It also will help to intensify the shadow's color.
Step 2: Blend the pencil into your lid, using a brush or finger, covering all over your eyeball, but not too high above the top lash line. The higher and rounder you go, the more dramatic the look will appear.
Step 3: Dip an eye-shadow brush into a powder shadow, tapping off the excess before dabbing it onto the lid. Tip: Use a blending brush to soften out the outer edge of the eye shadow, so that it diffuses out into the lid.
Step 4: Apply more shadow near the lash line to intensify the color and add depth to the overall eye.
Step 5: Using a brown eye pencil, draw a line close to the upper lashes. This will give the eyes are more open effect. Tip: The color brown gives definition without looking overly dramatic. Use black if you're looking for a more intensified look.
Step 6: Add a dot of highlighter in the corner of the eye with a brush. Add some above the purple shadowed area as well, as this creates the illusion of brighter, more open eyes.
Step 7: Apply mascara.
The final look.