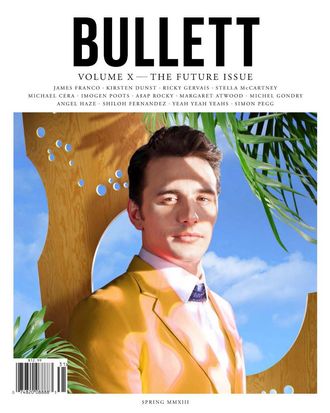 Much-loved fashion and art magazine Bullett will not publish a fall issue this year. And according to Women's Wear Daily, the three-year-old publication might cease to produce a print issue altogether. Is this a death knell for the critically adored and cutting-edge magazine? Actually, no, this might signal something even better for the media company.
The successful quarterly attracts cult favorites as both cover subjects, like their recent Sky Ferreira cover, and as contributors, like Lake Bell and Jeff Bridges. While co-owner Jack Becht admitted that the decision was a result of how expensive it is to produce the print edition, they've long accepted that print is not at the heart of their media company.
"We know we're good at print. That's not a worry. What we're doing instead is we want to focus on some opportunities we haven't focused on yet," he said to WWD.
Instead, Bullett Media will take production funds that would have otherwise been used to produce a fall issue and invest in their monthly digital magazine and their creative agency. Let's be honest, do we need another enormous fall fashion issue, even if it's as cutting edge as Bullett?  We can't wait to see what void they'll fill with more resources going toward an expanded digital platform.