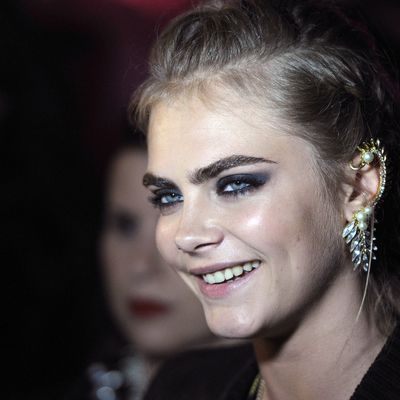 Cara Delevingne.
Photo: Eamonn M. McCormack/Getty Images
Cara Delevingne has made it very clear, time and time again, that she'd really like to break into acting. Vogue did their best to make her dreams come true by casting her in a film-set-inspired shoot in June, so you know the real movie contract can't be too far behind. And lo, the time may be nigh: Several British tabloids — the Sun and the Daily Mail, namely — say she's gotten the lead role in a movie called Kids in Love, which is about "rich kids who live a wild lifestyle filled with parties and drugs." One question remains: Will her character wear dinosaur onesies?
Why these filmmakers don't just make a documentary about Delevingne's actual life and save a bunch of money on sets and costumes and fake cocaine makes no sense at all. "Some aspects of the storyline will not be a particularly big stretch for Cara," deadpans the Daily Mail's unnamed source, who should really get some credit for his sense of humor. Unless, maybe she's been Method-acting this whole time! In that case, even Prince Charles was taken in.
Other "facts": The film will start shooting in September at London's Ealing Studios — which are, incidentally, owned by Barnaby Thompson, father of Delevingne's friend and Anna Karenina castmate, Preston Thompson.* Even if this rumor isn't entirely true, it's certainly close enough to what will inevitably happen.
* Correction: This post has been changed to show that Barnaby Thompson is Preston's father.