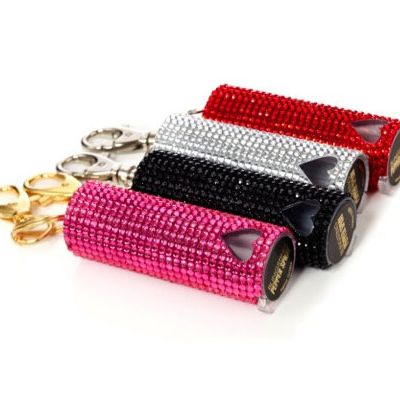 Blingsting.
Photo: Courtesy photo
At first glance, Blingsting — a can of pepper spray with a sparkly rhinestone case and heart-shaped nozzle — looks a little silly. "It definitely is," agrees creator Andrea Atteberry, 33, who began developing the concept four years ago with her mom, Kathy. "But if making it look cute and stylish gets more girls to carry it, then that's great."
A chipper, doe-eyed blonde from southern Illinois who has lived in Manhattan for the past three years, Atteberry is a great ad for her own product. She's never had to use pepper spray for her own protection ("Thank goodness!"), but she always clips one to her purse (or to the leash of her pet Yorkie) before leaving her apartment. "It never hurts to have it with you, and it makes me remember that I'm responsible for my self-protection," she explains. A graduate of Arizona State University, Atteberry developed Blingsting during her free time while working as a sales rep for a corporate wellness company; she left her job two weeks ago to focus on her new venture full-time.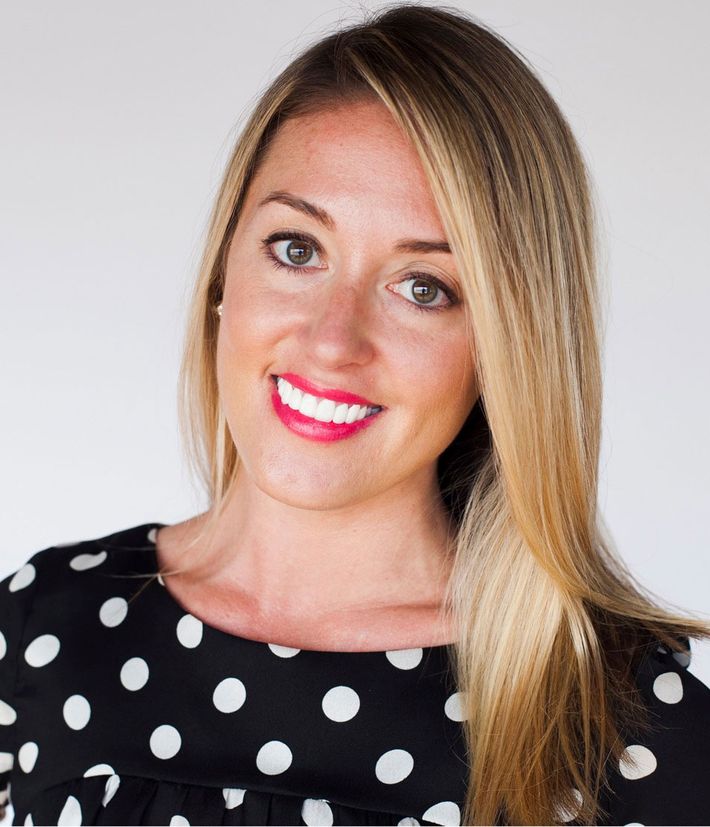 "I am trying to make self-protection relevant to the girls who want things to be cute, and want to be proud of the things they carry with them," she says, citing a statistic that 80 percent of sexual-assault victims are women under the age of 30. Her first goal is to make Blingsting a popular gift for college-bound women. "Especially when you're in college, there are so many distractions, so you're not thinking about safety as much as you should."
The Cut chatted with Atteberry on the phone last week about the safety-product industry, the irony of "cute" pepper spray, and how safe these items really are.
Where did the idea for Blingsting come from?
I'm from Decatur, Illinois, and my dad was always bringing home ugly pepper spray from the car wash for my mom and me. We always just threw it away, because we're both really girly and we like things to be cute and fabulous. Then, about four years ago, at Christmas, we told him that if the pepper spray were sparkly, we would be happy to carry it. And my dad busted out the name "Blingsting," and I was like, "That's genius!"
Why did your dad get pepper spray from the car wash? Is that a thing?
Pepper spray is kind of hard to find. It's in hardware stores, traditionally, and some pharmacies. A lot of car washes carry it, and auto repair shops. But I wanted to package it and make it cute enough that it's in stores that girls actually go to, because girls like me and probably you, we aren't really hanging out in car washes.
Have you ever had to use it personally?
No, luckily. I live in Manhattan, and if I'm on the subway late at night, I have it in my hand, just in case. I never forget to take it with me.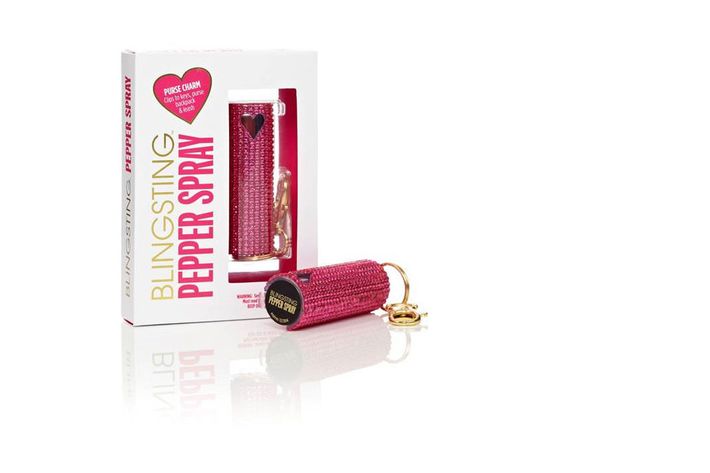 What made you so committed to pepper spray? Are there any statistics on its effectiveness for self-protection?
No, I haven't been able to find anything like that. The only studies I can find are statistics on sexual assault on college campuses. But like I said, pepper spray and personal-safety products are just really obscure. The whole safety-products industry hasn't been done well, in my opinion. I think there's a lot of opportunity there, and I'm looking at what other products I can make cuter, to compliment Blingsting, as well as instructional videos and things like that.
Does it strike you as ironic that in order to make girls interested in protecting themselves, you had to make this product "cute"?
Totally. It's cheeky — my website is cheeky, my packaging is cheeky. But if that's going to get a girl to carry it with her, or make just one smarter choice, then that's great. But I am certainly not trying to make pepper spray funny. Someone called it a toy the other day, and it's not that at all, and that's not my intention. I'm trying to make it cute enough that a girl will want to carry it.
Also, that young girl who's concerned about appearing cute and pleasing others might be more likely to get taken advantage of.
Exactly. At the end of the day, it's a plastic case with rhinestones on it. The pepper spray inside is the same pepper spray as in a normal, unattractive case. So it's definitely a little ridiculous, but I'm fine with that.
What else did you think about while you were working on the design?
I think the most important part of the design is that there's a clip on it, so that it clips onto the outside of your bag or backpack or dog leash, where you can access it. The kind you currently find is in this leather case that makes no sense if you need to get it out in a hurry. This way it's easy to grab. And since it's attractive and sparkly, and looks kind of like a lipstick case or something, you don't mind having it on the outside of your bag.
What kind of response have you gotten so far?
We launched six months ago, and it's been so great. We've been going to a lot of trade shows, and people love it, especially when they have it in their hands. It's funny, men usually end up being our biggest customers. Like my dad, they want to buy it for their daughters or wife. We just got picked up by Kitson in L.A., which was a huge win. We're also in a lot of gift boutiques, and we've been approved by Ace Hardware to be a national vendor. 
Do you ever worry that Blingsting will give girls a false sense of security? Like, they'll be more willing to put themselves in a dangerous situation because they have pepper spray with them?
I really don't. I actually think the opposite. When I have pepper spray in my bag, I think more about walking in a parking lot late at night, or getting into an elevator by myself. So you can argue both ways, but for me personally, and my hope for anyone who has pepper spray on them, is that it makes girls think more carefully about what they're doing. It's a reminder that you're responsible for your own safety.
It also probably helps girls feel more empowered in situations where they'd otherwise just feel scared and vulnerable.
Exactly.