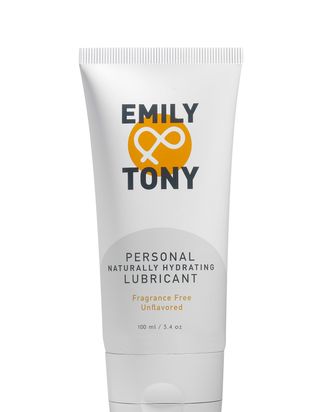 The story behind Emily & Tony, the newest personal-care (a.k.a. sexy times) line to hit shelves, is one of sweet, simple beginnings. "We first met as kids," explains Anthony Sosnick (Tony), the founder of men's grooming line Anthony Logistics. "Emily's parents bought my family's house and then later on we ended up going to the same [summer] camp." The "Emily" in this equation is Emily Morse, a sex and relationship expert with a successful podcast. The two minds recently reconnected, many years after their summer-camp days, to create a collection of bedroom products that look so good you won't want to hide them in your nightstand.
Subtly sexual products like massage candles (that are as nice as they look) and their DownUnder Comfort (a sweat-wicking cream for private parts) are available now on the Emily & Tony website, but their all-star is the Personally Naturally Hydrating Lubricant, which comes out in September. "I have every single type of lube available in my house right now," Morse told the Cut of her hands-on approach to testing competitors' products. "Everyone should own a bottle of lube." She then rattles off a rather pragmatic list of reasons why lube is good for you (sex lasts longer, it's more pleasurable for the woman, it protects the condom from breaking, and so on) before concluding that most people still won't buy the stuff because it looks so obviously lubelike, to say nothing of the goo factor.
Emily & Tony's solution is a naturally derived lubricant that includes ingredients like aloe leaf, citric acid, and a marine-based moisturizer called carrageenan extract. It's also vegan, non-sticky, long-lasting, fragrance-free, and "compatible with latex condoms and silicone toys." The bonus? If you leave it out, it just looks like face lotion.