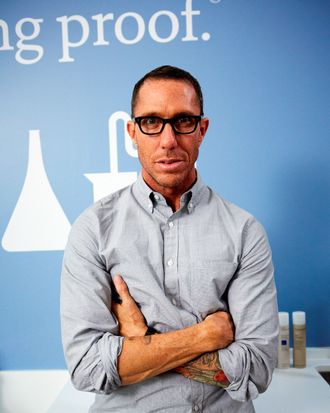 Photo: Noel Federizo/Courtesy of Living Proof
Jennifer Aniston's hair wouldn't be Jennifer Aniston's hair without hairstylist Chris McMillan. "So this girl comes in and she has kind of like frizzy hair with bangs," remembers McMillan of the time Aniston first walked into Destylo, the L.A. salon at which he was working at the time. "And I was like, 'You're cute; you should grow your bangs out and get some highlights.'" McMillan's chunky, highlighted, layered cut would forever go down in history as "the Rachel," of course. But before McMillan became a go-to for Hollywood's best hair (Cameron Diaz, Sarah Jessica Parker, Michelle Williams, etc.) and Aniston's best friend, the Palm Springs native — who's been in the business of styling hair for three decades — discovered the transformative powers of a haircut when he was just a boy, crushing on a girl in high school … for her hair. Below, McMillan shares these stories with the Cut, plus the one style he thinks Aniston should always avoid.
What made you decide to pursue hairstyling as a career?
In high school, I liked this girl named Sharon, and Sharon's mom was a hairdresser. Before Christmas break in the tenth grade, Sharon had Farah Fawcett hair, like in the seventies. After Christmas break, she came back with her hair in a bob, and she had permed it and she was wearing skinny jeans. She went from a seventies Farah Fawcett look to rocker Debbie Harry. And that was just on a two-week break. Her and I — okay, I'm gay. I don't know if I was attracted to her or to the fact that she was so fab. I think it was her fabulousness. We're still friends to this day. We both went to beauty school in high school; it was offered as an elective.
What's your approach to hair?
I live in California and I work with actresses more than not. I want them to look the best that they can look, but I want them to have that modern edge, that cool factor to it, that rock-and-roll feel.
What are some products and tools that you wish women would use more?
Everyone should have a good haircut. Spend the money on a great haircut, that's really important to me. Because then you don't need products or tools. But to maintain your hair, I can't live without my Aveda big round brush and a blow-dryer. Whether you're leaving your hair natural or not, it grips onto the hair without ripping it out, and you always need a blow-dryer to straighten out the root, like if your hair is curly. The product that I can't live without is Living Proof's Prime: It's replaced mousse. You can use it on wet or dry hair; you can use it on guy's hair, short or long hair. You can get fullness in a blow-dry; you can get texture after the hair is dry; you can get rid of frizz and flyaways after the blow-dry; you can put it in curly hair to smooth it out and get nice waves and curls. It kind of does everything.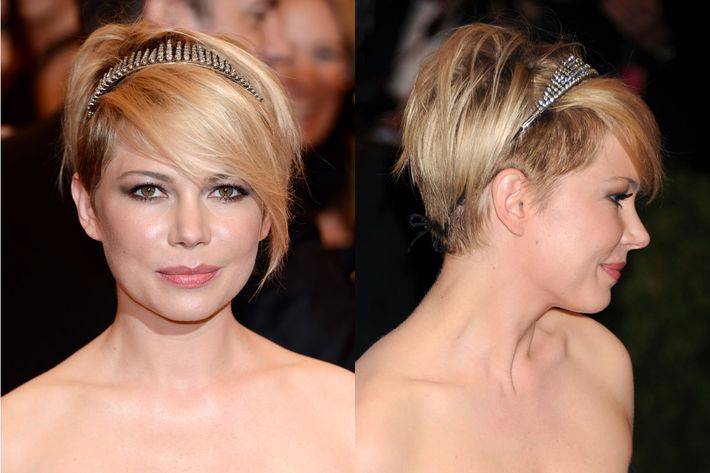 Do you remember making a big hair mistake?
Listen, we all make mistakes, but I had an idea for Michelle Williams, like an amazing, great idea for the Met Ball, and I got influenced by the collaboration with the other creatives on the job. You know what I mean? So that can sometimes stunt your growth. So it's not mistakes like I cut somebody's hair off when I didn't mean to.
What was your first true celeb-haircut moment?
Christian Slater was my first real, true celeb moment [during the True Romance European press tour], which led to Patricia Arquette, which led to Christian Slater's publicist, who had Courteney Cox, and then Patricia Arquette's manager had Jennifer Aniston. So then there's that. It's kind of a small world. Courteney will always argue that I did her way before I did Jen. Like, "Jen didn't make you famous. I did!"
Jennifer said that Molly, her manager, talked to her and told her to get rid of her "dumb bangs." Is that true?
Yeah, as I cut Molly's hair into bangs. [Laughs] Jen has a face that shouldn't have bangs. Some people should have bangs, but she has a small forehead and it's wider on the side. It's all about face shape. If you have a high forehead, you look great with bangs. If you have a little forehead, you're better off without bangs. It's really very simple. People are always like, "How do you know?" And I'm just like "Look at their face!" It doesn't take a brain surgeon to figure that one out.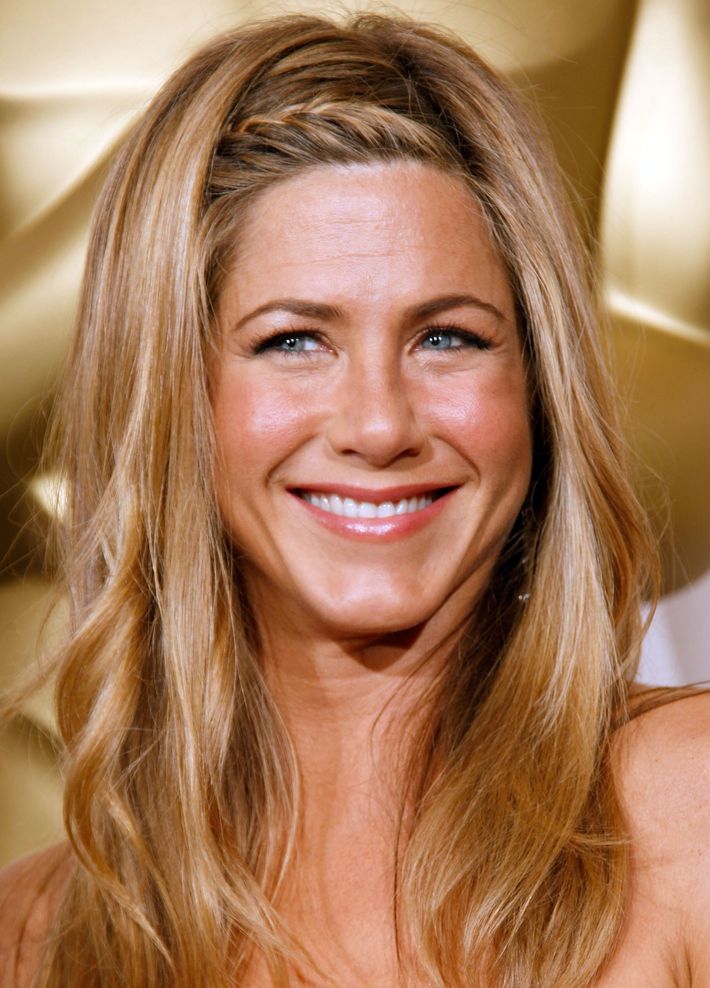 Has there ever been a moment when Jen has asked you to cut or style her hair in a certain way and you've just had to say no?
You know Jen has pretty great taste. But I've got to say, the braid across the forehead for the [2009] Academy Awards … I was like, "Really?" She was like, "Can we do a braid?" And I was like, "A braid? Ehhh, why not." So we did the hair after the makeup was done and it actually kind of worked. And I think that was when people started wearing braids. I remember we didn't get to watch the show that night. She basically left the Academy Awards and we hopped on a plane to Paris to do press for Marley and Me. So we land, and the next day at the hotel we're both on computers looking immediately, and people were like, "What's with the fourth-grade hairstyle?" and things like that. I was like, "Ugh, they didn't like it." And I remember Jen was like, "Oh, please. Is this the first time you've ever read something negative about something you've done? Give me a break."