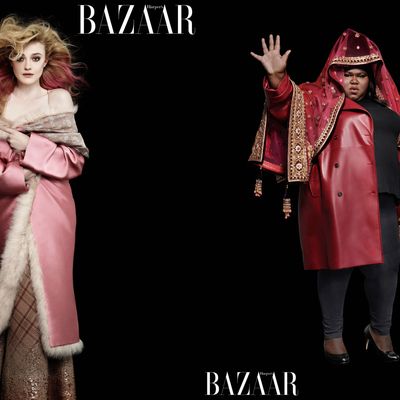 Dakota Fanning and Gabourey Sidibe.
Photo: Karl Lagerfeld
For the September issue of Harper's Bazaar, global fashion director Carine Roitfeld enlisted her old comrade-in-arms Karl Lagerfeld to shoot a cast including Scarlett Johansson, Dakota Fanning, Lily Collins, Carmen Dell'Orefice, Zoe Kravitz, Liberty Ross, and Gabourey Sidibe. Titled "Singular Beauties: An Homage to the Diversity of Women," the portfolio — Roitfeld's third for the publication — is a great example of how non-sample-size women can model truly fabulous new clothes. (All you magazines that say you can't find clothes for bigger models — you're officially out of excuses.)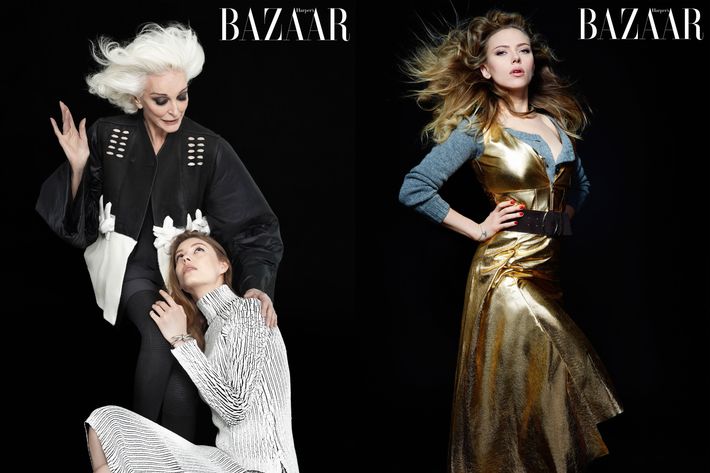 See how much more interesting and dramatic these pictures are than, say, your average teen model leaping around with her slender legs akimbo? What's more, here's a behind-the-scenes video with Lagerfeld smiling at a small child! What a great way to start the season.