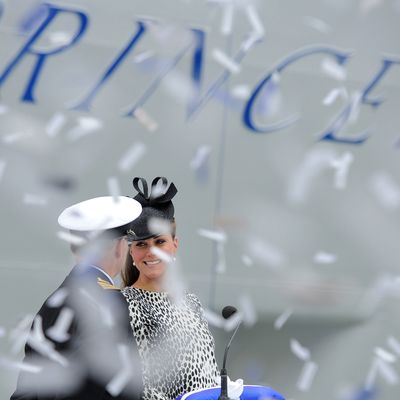 Kate Middleton.
Photo: BEN STANSALL/AFP/Getty Images
There was much confusion across the Internet last week when Prince George's birth certificate was publicly released, namely because Kate Middleton's occupation was stated as "Princess of the United Kingdom." Many were baffled by Kate's two different titles — is she a duchess or a princess? Can she be both? And isn't it pretentious of her to say that's her JOB?
As for the first question: Kate is indeed a princess. The rule is actually very simple: In the British monarchy, a wife gets the equivalent of her husband's rank, unless her own rank is higher. (It's different when the genders switch, but let's ignore that for simplicity's sake.) One's title is simply a matter of "style" — basically, a way of differentiating oneself from all the other dead royals with the same names. So, William is both a duke and a prince, and Kate is both a duchess and a princess.
Another particular: If and when Will becomes king, Kate will become a queen consort, which means she is not an actual heir and thus will never be monarch. (In contrast, a queen who inherits her title rather than marries into it, like Queen Elizabeth II, is known as a queen regnant.)
If you want an extremely detailed explanation, complete with historical examples, of all of the above, see here. And as for "princess" being Kate's full-time job — well, plenty of people do much less.