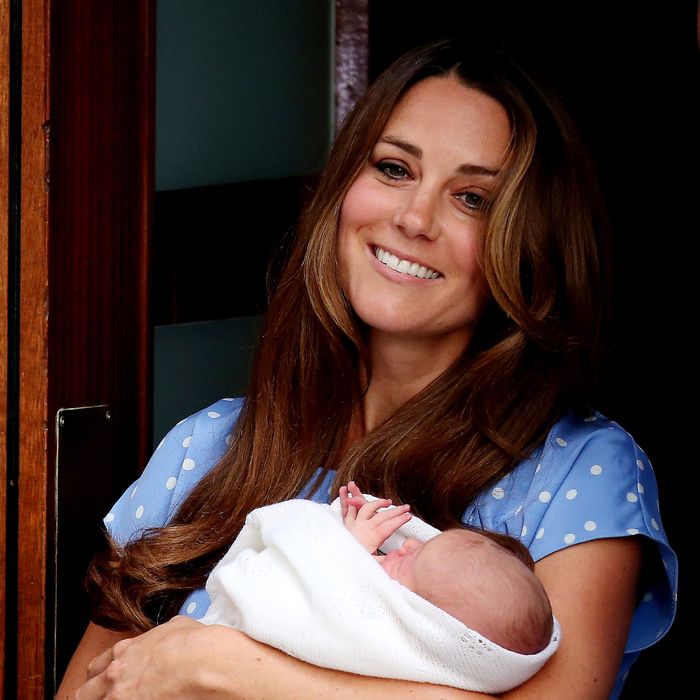 Photo: Scott Heavey/Getty Images
Yesterday, Kate Middleton made her first public outing since she left St. Mary's hospital a month ago. In contrast to her highly anticipated, much-fussed-over photo op on the steps of the Lindo Wing, this one was about as unremarkable as they come: She was photographed in the parking lot of the local grocery store in Anglesey, Wales, near the home she shares with Prince William. She frequents this establishment so regularly that she's been photographed here several times before. Gone is any remnant of baby weight; indeed, she looks so much like she did before that this photo could have been taken anytime over the past several years. She's probably even wearing her pre-maternity jeans.
Despite the obvious (and certainly intentional) banality of these pictures, news outlets around the world are beside themselves over Kate's post-pregnancy "slim-down," as expected. A sampling of breathless headlines:
- Duchess Kate is thin again [USA Today]
- Exclusive: Kate Middleton's Lost All That Baby Weight [Stylelist] 
- Kate Middleton pics: Duchess goes shopping, leaves baby weight at home [Zap2It] 
- Kate Middleton Reemerges in Breton Stripes, Already Skinnier Than You [VF]
- Kate Middleton Steps Out, Looks Slim One Month After Giving Birth to Prince George [Us]
And the list goes on. We'll probably never find out how Kate lost whatever little pregnancy weight she gained (and the world will be better for it), but it's not unheard of for a woman to regain her pre-pregnancy figure within a few months, particularly after a first child. Most doctors agree that a healthy time frame for losing baby weight is around six months, although everyone's different.
Anyway, fashion brands rejoice: She's back to wearing normal clothes that non-pregnant ladies can buy in droves! The maternity dresses she wore in her past two photos are still back-ordered until September 15, but the outfit she's wearing here (a Breton striped shirt, black jeggings, and Sebago slip-ons) is readily available.