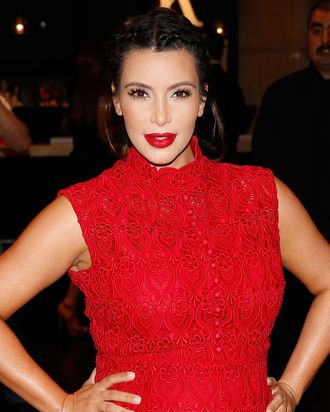 Photo: Isaac Brekken/Getty Images
Kim Kardashian was photographed holding 2-month-old baby North West for the first time this weekend — but with a blanket draped over North's head so nobody would see her. (Pictures here.) Though the event coincided with sister Kylie Jenner's heavily photographed sweet-sixteen birthday party, Kim's outing was in Oklahoma City, where she attended the funeral of Kanye West's grandfather.
As usual, the surprise appearance of the uncharacteristically quiet Kim Kardashian raises more questions than it answers. Does this mean Kim — and thus North — won't be featured in whatever inevitable sweet-sixteen TV special the Kardashians have in store? Is Kim prioritizing family over fame? Kanye over Kardashian? Both? Neither? Because seriously, how do you go from being photographed every single time you walk down the street to absolutely nothing for months on end? Are Kim and North masters of disguise?
Are we horrible people for looking at paparazzi pictures from a funeral? The images are exclusive to E!, the network that airs the Kardashians' shows and had exclusive access to Kylie's birthday party. Did E! outbid everyone to maintain its authority on all things Kardashian? Surely an Oklahoma City funeral couldn't be planned as a photo opportunity. Could it?
Do you think Kim carried her Hermès Birkin diaper bag?