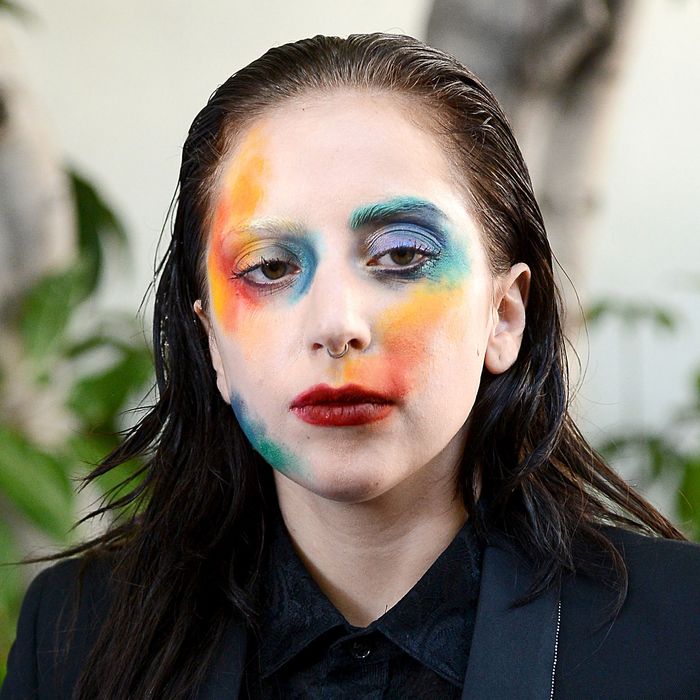 Lady Gaga.
Photo: All Access Photo/Splash News
Lady Gaga's recent makeover gathered even more momentum in L.A. today, where she went out in another all-black outfit with slicked-back brown hair and colorful face paint just like her new single cover. A-ha! Her new look has developed several themes:
1. Black clothes. This outfit is slightly different from her other recent getups in that there's no visible bra; perhaps the one she's been wearing to death was in the wash.
2. Brown hair. Not only is her hair dark, it appears to be real, and simply slicked back with some gel or maybe just leave-in conditioner. Homegirl's scalp probably needs it.
3. Sheer fabric. In this case, it was the skirt; famous people can't leave too much up to the imagination.
4. Platforms. This is Gaga we're talking about.
5. Colorful face paint. The makeup is reminiscent of Gaga's first single cover for her forthcoming album, ARTPOP. It's meant to symbolize how she's a canvas and always changing, etc. But it's also one of the few things she hasn't put on her face before, so bravo to her for finding something new that also looks cool and actually quite pretty in a weird fashion editorial kind of way.
6. Septum ring. We barely noticed it before, but she's worn it consistently throughout the past month.
She wore this head-to-toe costume for a meeting at the E! News building and then to the Chateau Marmont, where she posed for pictures and did whatever else it is people do there besides eat lunch, because that lipstick is not to be messed with.