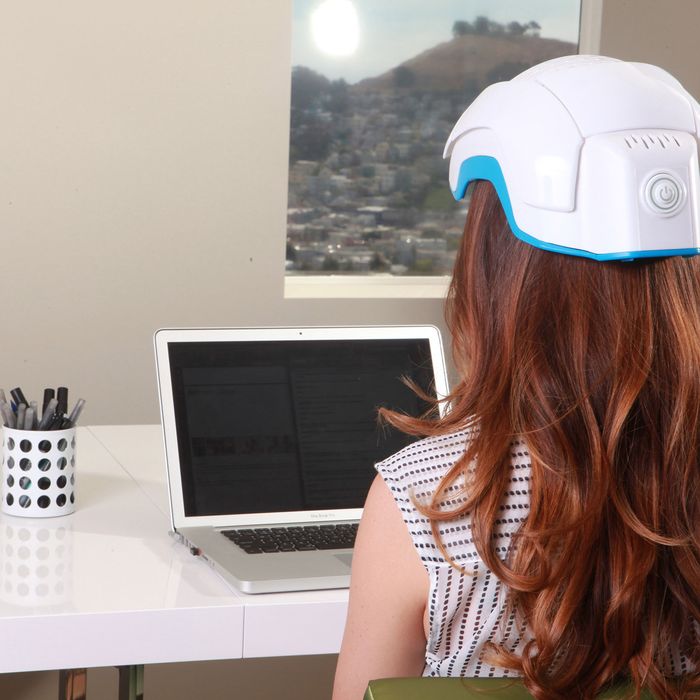 Photo: Courtey of Theradome
It might look like something you'd find in the newest issue of Sky Mall magazine, but the FDA has recently cleared production of Theradome, an at-home device that uses lasers to stimulate the scalp and follicles for thicker, fuller hair. Invented by a NASA scientist and other smart people devoted to hair regrowth, the blue-and-white plastic helmet shoots out laser power (not LED light) that matches the strength and efficacy of in-office treatments.
As an introductory promotion, the devices only cost $375, but they will eventually retail for $675. And while the FDA has only cleared use for women (it is not recommended for those who are pregnant) with approval for men expected by the end of 2013, they won't turn a man down if he tries to purchase one earlier.
Helmet wearers should check out initial results after 26 treatments (used twice a week for twenty minutes each time), as well as the noticeable changes after 100 treatments, or roughly one year. For those of you who are skeptical, the company has a rather comprehensive FAQ page. Apparently there are no side effects. The lasers won't burn or hurt, and the device feels just like a warm hat. It all sounds too good to be true. Sign us up.