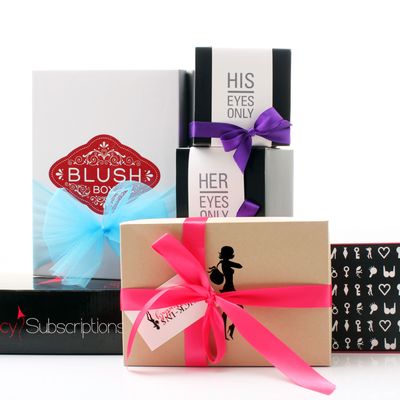 Advance planning a night of "wild" sex — rip off clothes, 8:50–8:51 p.m.; naughty spanking, 9–9:30 p.m. — can be a real boner-killer. But what if you didn't have to plan? What if a box of sex toys just magically appeared on your doorstep and all you had to do was follow instructions?
This seems to be the thinking behind a new crop of Birchbox imitators, who have taken the samples-by-mail subscription model and adapted it to sex supplies. Customers sign up online at a cost of $25–$35 per month, and receive a discreet package of naughty goods every four weeks. Contents vary, but the boxes usually offer some combination of toys, lube, and lingerie.
I tested sex boxes from five different companies, with help from my (now ex) boyfriend John, as well as a pinch-hitting new partner. Read on to learn which boxes made us laugh, which caused a breakup, and which cleaned my sinuses.
Not Recommended: Déjàmor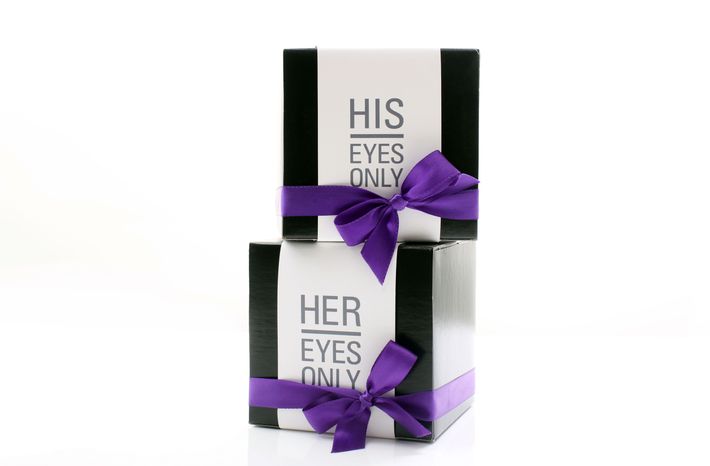 The Déjàmor box was comically terrible. Inside the initial package were two boxes, one that said, "For her eyes only," and the other, "For his eyes only."
Following directions, I only opened my box. It contained a mug, Bolivian fair-trade coffee, and two packets of tea. An instruction booklet broke down my assignment: I was supposed to take a sharpie and write a message on the cup, creating a "love mug" for my boyfriend.
Whoever designed this present has clearly never met a human male before. No guy has ever said, "You know what turns me on? Crafts."
In case you get mug-writer's block, the sweet, misguided people from Déjàmor give a list of possible messages you can write. Here are just a couple:
• I love your grilling skills. You make the tastiest burgers!
• Your positive attitude is inspiring.
• Waking up next to you makes my whole body smile.
After you decorate your mug and prepare the tea, you are supposed to serve it to your man while asking him questions about his hopes and dreams. When my BF opened his box, instead of some wack Etsy project, he got two things: black bondage tape and an oral-sex manual. What?
Contents: Coffee mug, packet of ground Bolivian coffee, two packets of tea (Rooibos and English Breakfast), black bondage tape, and an oral sex manual.
Price: $34.95/month
Recommended with Reservations: Spicy Subscriptions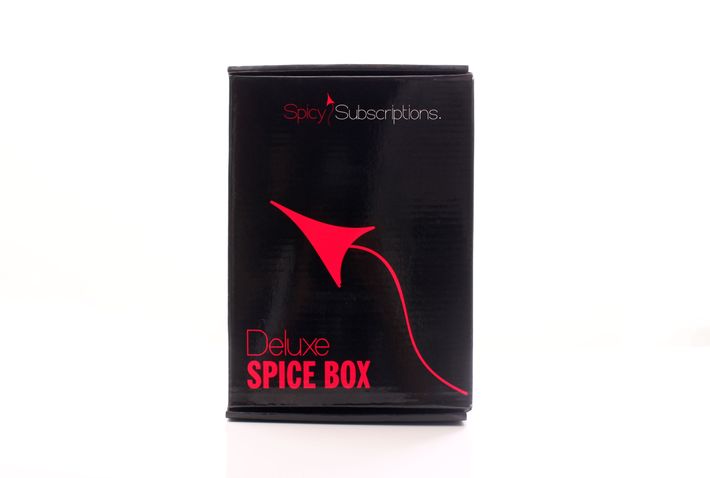 This box was like a drunken night at Medieval Times: campy, tacky fun. The first product we tested was the Naughty Secrets Pheromone Body Fragrance. I grabbed the massive bottle of purple liquid and generously spritzed myself and John. Within seconds we were choking on the funeral-parlor stench of rotted rose petals.
The next product we tested was the Comfortably Numb Deep Throat Spray in mint chocolate. Apparently, this Binaca-type mist cools and numbs the throat so that you can take maximum dong-age into your mouth. I misted my throat a couple times and within seconds my eyes and nose started leaking. I felt like I gargled jalapeño juice. And, despite my best efforts, I had to stop mid-fellatio to violently blow my nose. Verdict on the spray: Great as a nasal rinse, terrible for anything else.
Then John and I decided to try the Moist personal lube and the small vibrator, but unfortunately things got a little too hot, too fast. After a lightning-speed climax, my BF immediately proceeded to jump in the shower to start his day, apparently unaware that sex was not over after three seconds just because he had come. This resulted in a major fight, and shortly thereafter, we broke up.
Spicy Subscriptions did not end our relationship, of course — but it didn't help. They've got a lot of fun and ridiculous products, but beware the home-wrecking lube.
Contents: Comfortably Numb Throat Spray in Mint Chocolate, Naughty Secrets Pheromone Body Spray, Moist personal lubricant, small blue vibrator, Stroke 29 masturbation cream, Sex Shots Ultra (a performance drink), G-Spot vibrator (no batteries), and a 50 percent off discount card to Naked Wines.
Price: $24.95/month
Not Recommended: The Fantasy Box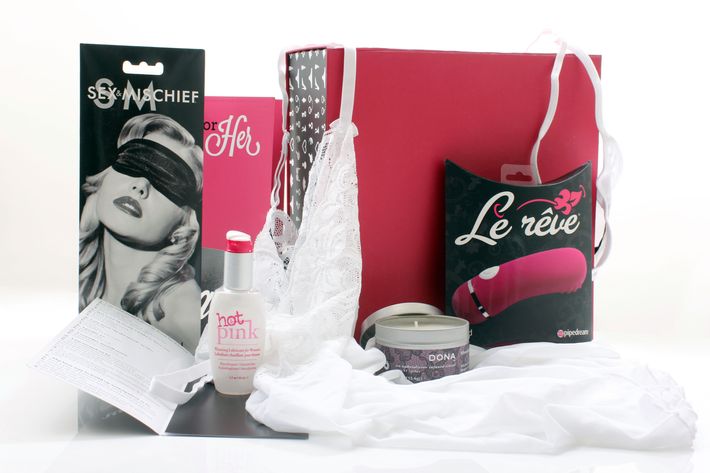 I used the Fantasy Box with a new partner, James. After a couple of glasses of wine, we lay in bed and opened the box to find lingerie, a red vibrator, a massage candle, lube, and a blindfold with instructions on basic domination. I put on the red lingerie as we sheepishly debated who would be the sub and who would be the dom. But the whole thing was starting to feel really contrived, so finally we ditched the instructions and just had a freestyle makeout.
I did use the blindfold, but just to sleep.
The next day, I tested the vibrator on my own and found it sadly underwhelming. At its highest strength it felt like a confused old man mumbling into my vagina. No thanks.
Contents: Negligee and thong, vibrator, hot-pink warming lubricant for women, massage candle, blindfold, and a book of sub/dom instructions.
Price: $34/month
Not Recommended: Blush Box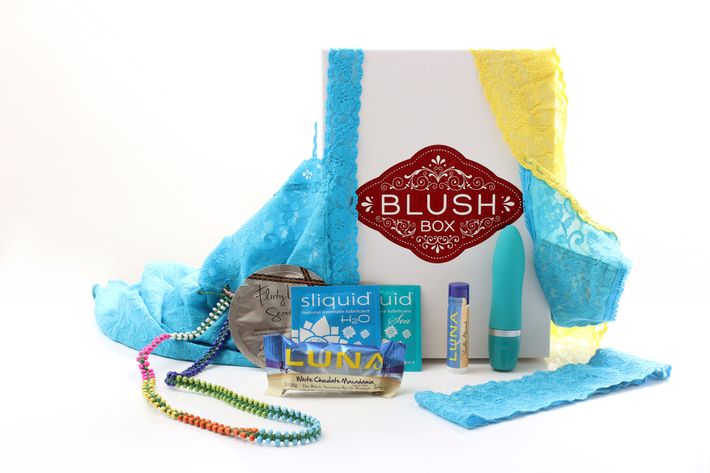 The contents of the Blush Box were utterly bewildering. A Luna bar? A blue headband? A beaded bracelet made by Nicaraguan women in the hinterlands? This was a Lilith Fair survival kit, not a foreplay package.
Although completely confused, I was excited to see how these items would play out in the fuck-mosphere. The morning after our busted attempt at Fantasy Box sex, I told James to busy himself in the kitchen so I could deck myself out in Blush Box gear.  I put on the blue lace tank top, blue thong, blue headband, and South American bracelet. Then I lathered myself with the greasy bronzer.
"I'M READY," I yelled.
He walked into the room.
"You look like a Russian mail-order bride."
"You liiiiiike?"
We then proceeded to have role-play sex where I was an Eastern European bride and he was my repulsive American husband. When we finished up the biz, we wolfed down our macadamia-flavored Luna bar.
Contents: Blue lace headband, blue tank top, blue thong, blue vibrator (no batteries), Firming bronzer "with pheromones," vegan lube (?), Nicaraguan beaded bracelet, White Chocolate Macadamia Nut Luna Bar, and Vanilla-Almond Lip Gloss.
Price: $24.75
Recommended: Tuck-Ins Monthly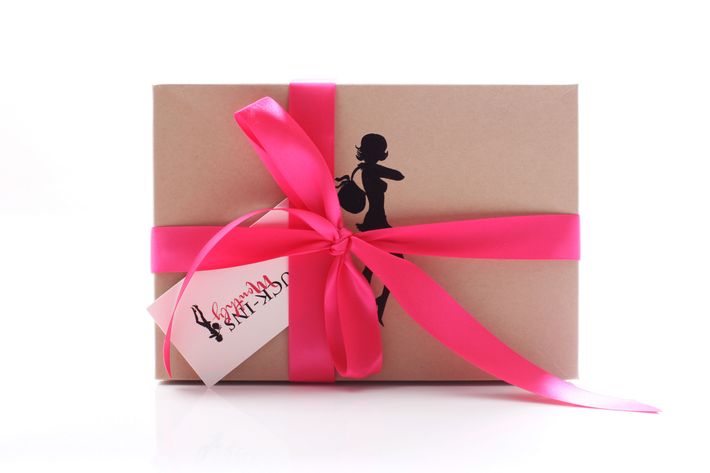 When I opened the cardboard Tuck-In box, I pulled out a tangled black pile of fringe. Upon closer inspection, it turned out to be a swishy, flapper-style corset with cut-out boob holes. Also in the box: a black thong and pink lip gloss.
That evening at my BF's house, when he left the room to brush his teeth, I quickly shimmied into my getup. Since John had no mirrors in his room, I had no clue how I looked. "Just be casual," I told myself. "Pretend you're not wearing a full-body thong."
John opened the door, looked at me, and paused. "What are you wearing?" he asked — and then he didn't wait for an answer, he just pounced.
The next day, barely recovered from our boning, I got a text at work. "Still thinking about that outfit." I'd always thought that frilly lingerie was kind of dumb— turns out it's magic.
Contents: Black lingerie top, black thong, and pink lip gloss.
Price: $29.99/month