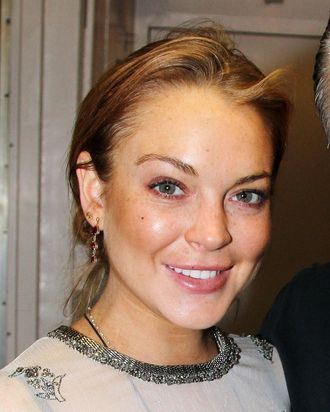 Photo: Bruce Glikas/Getty Images
Is a Mini Cooper a more embarrassing place to be caught cheating on your boyfriend with a married colleague than most? Asking because Lindsay Lohan suggested as much in an E! teaser clip for her much-hyped, supposedly competent guest-hosting sting on Chelsea Lately. In it, Lohan links Kristen Stewart's recent expletive outburst at a paparazzo to the tabloids' role in her breakup with Robert Pattinson:
I will say this, of course she hates photographers — they got a picture of her kissing a married man in a Mini Cooper.
That whole episode was mortifying, for Stewart, for Rupert Sanders, for their respective significant others, for the bloggers who had an unhealthy interest in R-Patz and K-Stew lasting/not lasting. But was Stewart's Mini Cooper the most memorably embarrassing aspect? More than the sweatpants? The grinding? The flexing? To be fair Lohan, knows a lot more about cars than I do.