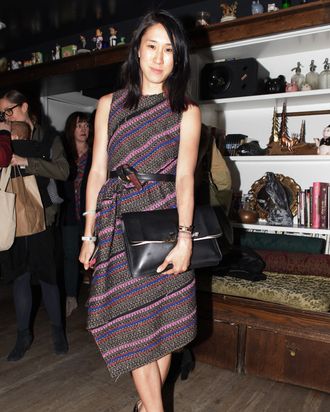 Photo: Angela Pham/BFAnyc.com
After taking the helm at Lucky magazine with the approval of Anna Wintour and revamping the glossy dedicated to all things shopping, the freshly crowned editor (and first Asian-American to top the masthead of a Condé Nast magazine) has been undergoing a whirlwind of press. The Business of Fashion is the latest to jump on the Eva-appreciation wave, and lo! They've managed to extract a new nugget of information on Lucky's digital future.
For those who were hoping that Eva's daily Instagram outfits (shoes, manicures, purses, etc.) would be available to shop online in the near future, it turns out there's slightly bad news. "This question is hard to comment on at the moment, to be honest, because my first challenge was refreshing the print model and design and now we're working on the new look of the website," she shared. "E-commerce is certainly on my mind, but establishing the tone and cadence of print and the new site is foremost." Bated breath! And, in the meantime, there's always Wanelo.