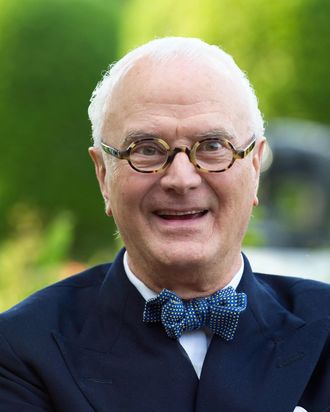 Photo: David M. Benett/Getty Images
Vanity Fair took Manolo Blahnik to lunch and in a swoony interview discovered that Blahnik is the most adorable older man. He speaks several languages (some might be invented?). He calls his new collaborator Sarah Jessica Parker "Miss Parker," instead of the less charming "Sarah Jessica" or "SJP." He is allergic to wine, but indulges in vanilla ice cream. He adores the scent of jasmine and fifth-century sculptures of Phidias. But most of all, he loves his shoes, "those members of an extended sexy family." In fact he lives with tens of thousands of them:
He has for many years lived in London and in historic Bath, in southwestern England, where his two adjoining Georgian houses are also home to some 25,000 to 30,000 pairs of prototype Manolos. He's lost count of them. "I don't live in a house. I live in a shoe museum! 'Shoe mausoleum' would be better!
We hate to deflect to a lazy pun here, but he's really taken "the old woman who lived in a shoe" to the next level.