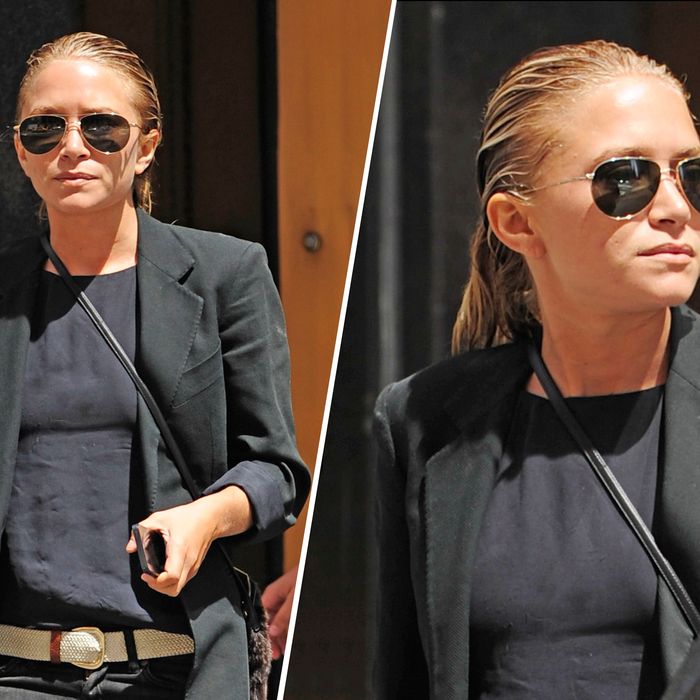 Yesterday, we were into Mary-Kate's menswear shoes, and today, it's her slicked-back hair. Despite the fact that she wasn't flanked by her twin or very tall boyfriend, Olivier Sarkozy (she had his daughter beside her instead), the aviators and dark, utilitarian ensemble is still pretty run-of-the-mill for MK — but shower-fresh hair has never looked so good.
Perhaps thanks to the city's obsession with blow-dry bars or people heeding their mother's admonishments ("don't go out with your hair wet"), it's actually quite rare to see someone with their hair so wet. Only those who overslept (and consequently dunked their head in sinks) or post-gym rats proudly flaunt a wet-head look — it just looks so untidy.
Mary-Kate's, however, is not that. Carefully combed back, probably with the assistance of some malleable gel (like Bumble and Bumble's) applied to damp hair, the effect is considerably pulled-together. Was she channeling a post-rescue-scene Pam Anderson from Baywatch? Could it be in homage to Val Kilmer of Top Gun? The slicked-back style looks refreshing and cool, despite her cloaked-in-black wardrobe, and maybe, just maybe, it's enough inspiration to dip into our own L.A. Looks stash this weekend and give this a go.