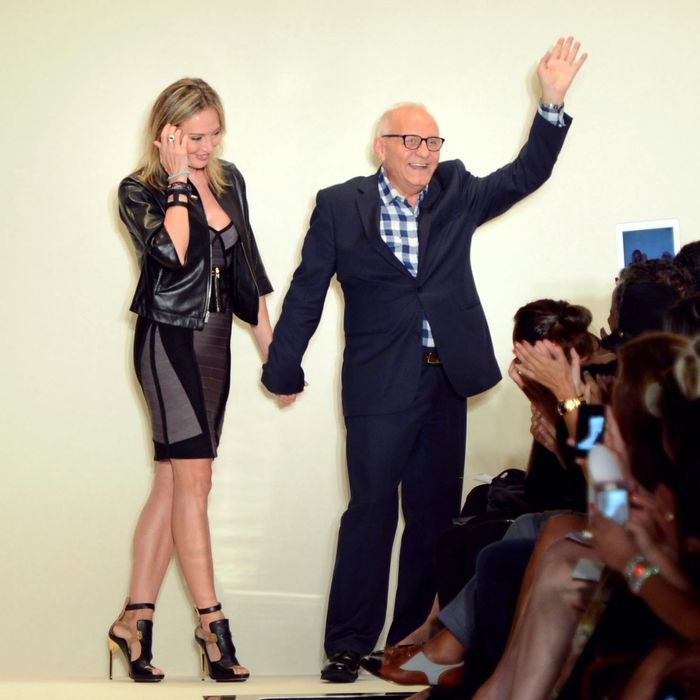 Photo: Frazer Harrison/Getty Images
When BCBG Max Azria opened a store in my suburban hometown mall, sandwiched between a Nordstrom and a Talbots, I was in my early teens and tremendously impressed. Inside were TVs playing runway videos and chunky sweaters laid out on long tables like sculptures. They sold hip-slung pants with a straight leg, a radical departure from the flare-legged Mudd jeans everyone wore at the time. After I saved up and bought a tank top there, I received an invitation to attend a "trunk show" they were hosting. I had no idea what that meant, but I convinced my mom to take me. (I was sorely disappointed when it didn't involve free clothes.)
The store closed a few years ago, around the same time that Azria's debt was spinning out of control. The same practices that made his brand seem to me like a paragon of cool had also gotten him into financial trouble. He'd opened too many stores too quickly (he still has about 1,000 locations worldwide) and stocked them full of bells and whistles. He'd introduced "high fashion" that was cheaper than designer clothing, but with prices ranging from $100 to $500 per piece, it was still too expensive for most Americans. (When a friend convinced her mom to buy her a prom dress there, she immediately felt guilty about the $390 price tag. "I've just never owned something that cost so much," she said.)
Azria's business has since deteriorated further, and not just because of that ill-fated collaboration with Miley Cyrus and Walmart. Today's Wall Street Journal reports that his role at his eponymous company, which is now predominantly owned by Guggenheim Partners LLC (they hold about $475 million of the company's approximate $685 million debt), may be reduced to the point where he no longer has much control at all.
The Journal interviewed Azria, who runs the business with his wife, Lubov, in their seventeen-bedroom California home; he's become so stressed that he's taken up smoking again.
Mr. Azria said he didn't recognize the danger when he was borrowing capital for various expansion efforts. "We have our agenda, but the finance people have their agenda," he says. "I knew that, but I didn't see it."
Ironically, the brand may go the way of Hervé Léger, the bandage-dress brand that Azria purchased for a song back in 1998 because its founder had run out of money (Léger describes the experience of losing his label as "horrible"). Perhaps now would be a good time for Azria, 64, to retire? No way, Lubov says: "He's one of these breeds that if he's not building something, he dies." Maybe he should just take some golf lessons, at least.
The brand will still present two collections at New York Fashion Week in September, where Max and Lubov will take their bow on the catwalk together, as always. But how much longer can expensive runway shows continue? Something will have to give, and soon.