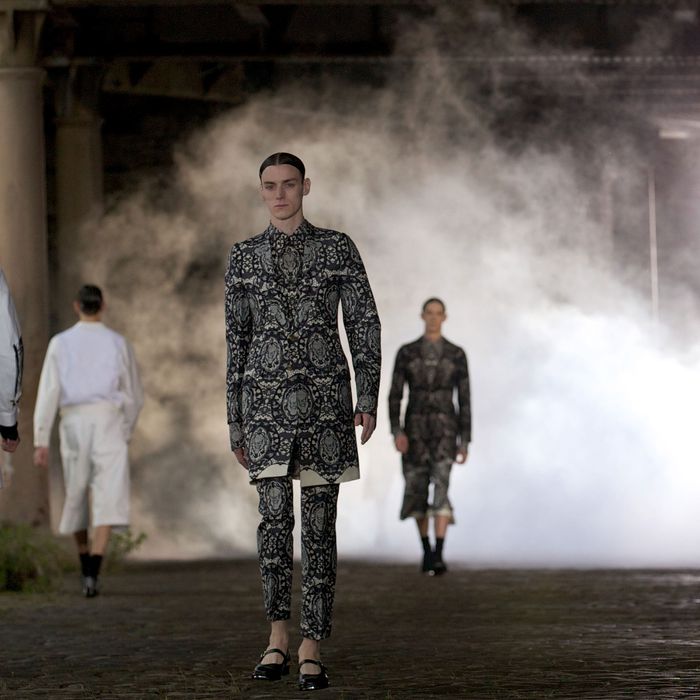 McQueen.
Photo: Andrew Cowie/AFP/Getty Images
A studio manager for Alexander McQueen recently sent an e-mail to several top design schools in London requesting an "urgent" replacement for an intern who'd suddenly left. The fashion house needed a "talented knitwear student" who could work 9.5 hour days, five days a week, for six to eleven months, with no pay besides travel expenses and £60 a month in lunch vouchers (about $90). 
The e-mail made its way to Shelly Asquith, the student-union president of the University of the Arts London, where McQueen himself studied. She wrote an angry public response denouncing the practice of unpaid internships (which are illegal in the U.K.):
Alexander McQueen studied at my own college; he too was from a working class family and broke in to the industry after years as a paid apprentice on Savile Row before enrolling on MA Fashion. He worked hard and was paid for it. Considering his background it is unlikely McQueen would ever have been able to pay his way without a wage — his father was a cab driver and unlikely to have provided him with a trust fund. In fact, in his will the designer asked for part of his fortune to be granted to some of our most hard-up students at CSM. McQueen recognised the financial barriers that exist to make it in the industry: it is a great shame his legacy label is exacerbating them.
Quickly realizing how bad they looked, McQueen issued a public apology and reiterated that all their interns must be eligible to receive school credit for their work — which is, after all, just a nicer (and more legal) way of not paying them. A McQueen spokesperson tells the Huffington Post U.K. that the studio manager's e-mail was sent by mistake:
The advertisement in question was issued in error and was not in accordance with our HR policy, for which we apologise.

In line with UK government guidance, Alexander McQueen has a strict policy of only accepting interns where the student is required to complete a placement as part of their higher or further education studies.
Fine, but the "school credit" system just kicks the financial burden back onto educational institutions, who collect tuition from students — so the interns are, in essence, compensating their schools for the opportunity to fill essential jobs. They are literally paying to work. This is not a long-term solution to the problem of unpaid internships, nor to the business model that makes fashion houses dependent on them.