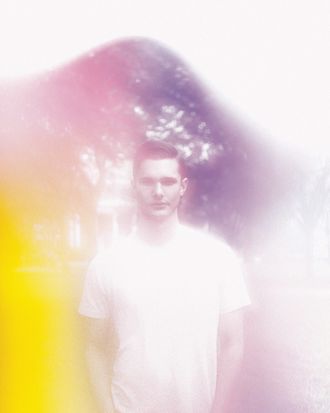 Photo: Olivia Bee/New York Magazine
Photo: Olivia Bee/New York Magazine
Two issues in, and Dorian Grinspan already possesses a Manhattan apartment befitting the editor-in-chief of a fashion magazine.
After exiting an elevator best described as European—cramped, carpeted, as old as it smells—guests walk into a penthouse with lacquered black floors, a functioning fireplace, a zebra hide, off-white couches, and ceilings high enough to dwarf the already spare décor. Five tall windows look onto Gramercy Park, to which he has a key. "I like to answer my e-mail­s there," he says.
Grinspan collapses into a sofa, curling his limbs into a jagged apostrophe. In an accent that reveals his upbringing in Paris, he says he looked at 30 or so appartements earlier in the year, and took the one that happens to share a floor with Carla Sozzani, owner of the Milan luxury emporium 10 Corso Como. She bought her place from her sister Franca, Vogue Italia's editor-in-chief, for $1.7 million earlier this year.
I wonder how Sozzani feels about the big pile of magazines on the landing between their apartments. There, her 21-year-old neighbor has stacked about 50 copies of the spring 2013 issue of Out of Order, the high-end fashion, art, and culture magazine he runs when he's not studying for exams or trying to convince professors that, yes, he really needs to miss finals to attend Paris Fashion Week. ("My dean says it's not really an excuse, so now I always have an 'illness' or something.") Though it's three years (and only two issues) old, it feels more established: Woody Allen agreed to be ­photographed and interviewed for the debut issue, and the next one featured a Ryan McGinley profile and retrospective along with pictures of the model Arizona Muse with her young son. The second cover story was by Larry Clark, the director of Kids, about a tween skateboarder whom Clark found and photographed in Texas. The operation is professional enough that Grinspan and Rich Aybar, a stylist he knows, convinced labels like Givenchy, Lanvin, Dior, Saint Laurent, Marc Jacobs, and Stella ­McCartney to lend clothes for photo shoots. Prada, lately, too.
"I'm doing something that's just personal," Grinspan says, insisting that his magazine isn't meant to fill a specific hole in the fashion-magazine landscape. For now, it's an extracurricular activity, a piece of his four years at Yale, where he's about to begin his senior year, majoring in American studies. For each issue, he chooses a theme—"Innocence" as a freshman, "Adolescence" as a junior—for the writers, photographers, artists, and other collaborators. "I'm trying to work with people I admire and meeting people through that," he says, describing Out of Order as more of a networking tool than something printed, and sounding not very innocent or adolescent at all. As the magazine's website puts it: "The next generation of cultural tastemakers begins here."
Right now, Grinspan produces Out of Order without an office, paid staff, corps of interns, or much free time of his own. The summers are easier, because he doesn't have to worry about managing his class schedule. Or why not wait to finish his degree? "If you get out of school and you want to start a magazine, it's just a terrible business idea," he says. "But if you get out of school and you've already had a magazine and it's going pretty well, and you're feeling confident, that's easier." Essentially, while other classmates are trying to figure out their futures or their emotions, or even just hook up, Grinspan doesn't bother; he's focused on creating the job he wants when he graduates. "I arrived at Yale and I was really, really bored," he's said before (and wisely won't repeat to me), but it can't hurt that the campus is bursting with future titans of art and commerce, people who might be into Out of Order—and Grinspan handed free issues to them in the dining hall.
His single-mindedness is ironic, in a way, since he says he wanted to come to the U.S. for college specifically to avoid the French préparatoires system, in which students are tracked almost from the beginning into ­specialties like law or finance. Our own professional priming didn't appeal to him much either. "I don't really believe in [serial] interning," he says, "this idea that you have to do it several times, at a magazine, or a law firm, or an investment bank, and then hope to get hired somewhere." Unlike a lot of his New York–bound classmates, he has done just one fashion internship, when a family friend of his was starting a new magazine after losing her job; then again, the friend was Carine Roitfeld, the former editor of French Vogue.
About a year ago, Grinspan started commuting to New York for half the week, condensing his classes into three days. It doesn't hurt that his new apartment is nicer than the one-bedroom he keeps in Connecticut, where a dozen of his pals all live on the same floor of an off-campus building. "It's some Americans, but mostly international students: a Jordanian friend, someone from London, from Spain," says Lara Panah-Izadi, another Parisian Yalie and neighbor. Adds another close friend, Jessica Kempner, "Some of the girls happen to be art-history majors, and some of the guys are working in bank-y kind of jobs this summer," which means that the editor and his magazine stand apart. "He's doing something supercool, so everybody [at Yale] knows," Panah-Izadi explains. "It's exotic, but at the same time, he's not at all pretentious, so he's very easy to connect with." Friends say he's the one always introducing a freshman art ­student he admires to the group, or a random new classmate he chatted with for five minutes, constantly connecting people in what Kempner describes as that "very Dorian manner: He always looks amazing, but he's always very relaxed; he's always wearing jeans and a T-shirt but he wears it better than anything I've ever seen."
On his Manhattan couch, he continues to recede into himself, the light of the giant windows bouncing off his unintentional angles. Grinspan dabbled in modeling—he signed with DNA—but stopped when he decided that making a magazine was a more substantial way to earn fashion credibility. "It didn't seem right while also taking business meetings as an editor-in-chief." And he didn't need the day rate.
Now would be a good time to mention the family money behind this high-gloss life. Savings from childhood and cash from his father, a prominent mergers-and-acquisitions lawyer, have helped support all of this, though Grinspan says his forthcoming issue, if not the loft his dad bought, will be the first fully supported by advertising and sales. "I have to start paying my rent after a year or two out of school," Grinspan says. "I've been fortunate enough that I don't have to do that yet." His precocity also owes something to his aesthetic legacy: As a youngster, he was close to his godmother, who had changed her name from Elizabeth to Babeth Djian and become a cult eighties-style figure as the fashion director of the short-lived magazine Jill. When Grinspan was 5, Djian started Numéro, a female-focused ­successor to publications like Purple or Dazed & Confused that had been created to free fashion coverage from the Condé Nast industrial complex.
To know this world—one where his godmother can call Karl Lagerfeld and ask him to photograph a few pages—is to explain Out of Order. Last month, a few fashion journalists were in a taxi during a Nike press trip to Portland. Suddenly, Grinspan, who others told me hadn't spoken much that week, asked the driver if he had heard about a gay bar called Silverado. Soon, he was explaining that he'd met with an older man the night before who had suggested it as the best option for the vacationing gay fashion crowd. Only later did they all learn that the recommendation came from Gus Van Sant.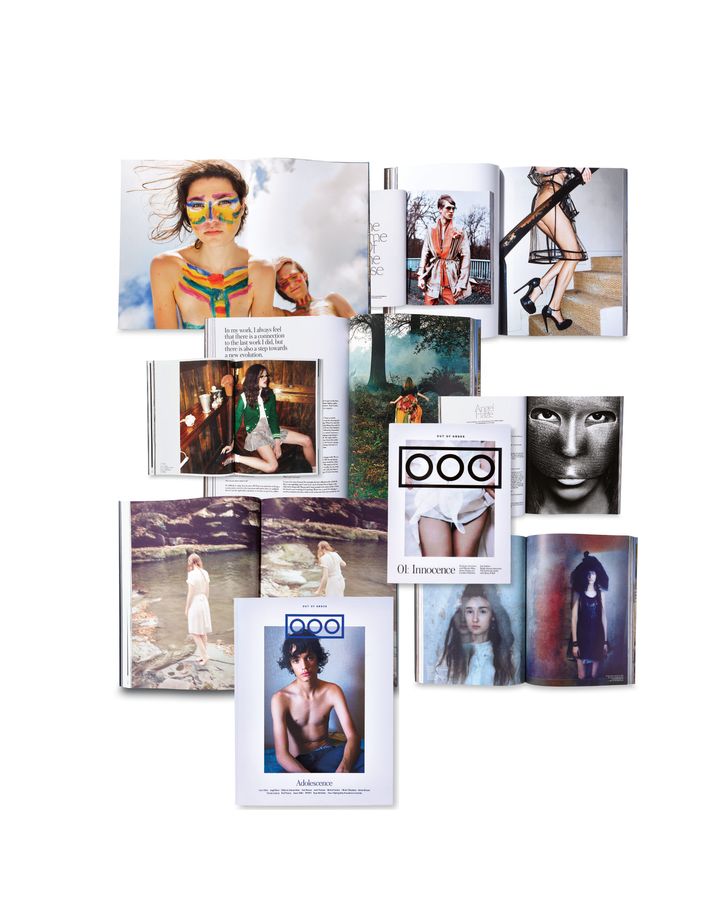 Grinspan says people work with him simply because he asks without ego and because "he respects their privacy." But perhaps it's because Out of Order is something the old guard has spent years validating: It's a small-batch printed publication, on expensive matte paper. (The run is 6,000 copies.) It can live on shelves for a decade, free of blog commenters with their crass opinions, first-person ephemera, or other Internet stressors that leave many old-world brands scratching their heads. Out of Order has a website, though ­Grinspan says he leaves it to another student (his "managing editor"). He's not on Twitter ("I'm not clever enough"), and before he started the magazine, he used to check his e-mail every three months. "Now I check it every two or three minutes."
He does use Instagram, where he preens with the Brant brothers and Derek Blasberg and various others who make a career of gallivanting, though a lot of the latest photos show him working on the next issue. "You know, there are many kids with a lot of support who don't use that support in the right way," says Stefano Tonchi, the editor-in-chief of W, who remembers meeting Grinspan at the Cannes Film Festival last spring. "He's a very charming, good-looking guy, but the world is full of good-looking people, and rich people, especially in the circle we are familiar with. That's not the reason someone does a good job."
Of course, the goal is for Out of Order to be highly profitable at some point, but only, it seems, if the ads don't ruin his vision. For the last issue, he had arranged to sell the back cover, but he scratched the deal when he decided that repeating the same Larry Clark photo on the front and back would catch magazine buyers' eyes at stores like Colette, Opening Ceremony, and FiveStory, where OOO is stocked. He has made a small amount of money from spreads bought by Bulgari, Stella McCartney, Jason Wu, Theyskens' Theory, Patrik Ervell, and others. Olivier Theyskens, in fact, approached him: "I proposed that if he needed any [ad] support, I would be very happy. When I first saw Out of Order," Theyskens recalls, switching into fashion-superlative-speak, "I thought it was very major, and very strong, and, you know, it's not very easy to make a magazine."
Maybe that explains its strange publishing schedule. Whereas fashion magazines usually choose September as their big moment, Grinspan's next issue—full of fall's newest clothes—won't be out until December, basically sale season. So what's the theme? "Power," he says. "But don't print that. Because it's not the final word." We'll know come winter break.
Photo: Olivia Bee/New York Magazine (Grinspan)
*This article originally appeared in the August 19, 2013 issue of New York Magazine.