Meet the Hairstylist With a Passion for Wigs
Entering the world of hairstylist Thanos Samaras, whose work has appeared in French, Italian, Greek, and Russian Vogue (and recently, New York magazine), is like stepping into a museum. The walls of his Park Avenue apartment are dotted with vintage hair posters and framed Marcel wigs (purchased in a Parisian shop). There are vintage French dolls in glass cases, and others from around the world sitting on window sills or tucked away in drawers. His shelves are neatly stocked with curlers, rollers, wigs, and dummy heads from a time when the likes of Tippi Hedren, Kim Novak, and Katharine Hepburn graced the silver screen. "I'm inspired by a time that has gone by, that was more gentle, more innocent," explains the Greek-born Samaras, who only just landed stateside a year and a half ago. "I think why I moved to New York was [because of] Rosemary's Baby. I've been watching this movie almost every day since I was a teenager, and I can recite it by heart. Music score, sound, everything. I'm attracted to that era of simpler, more beautiful living."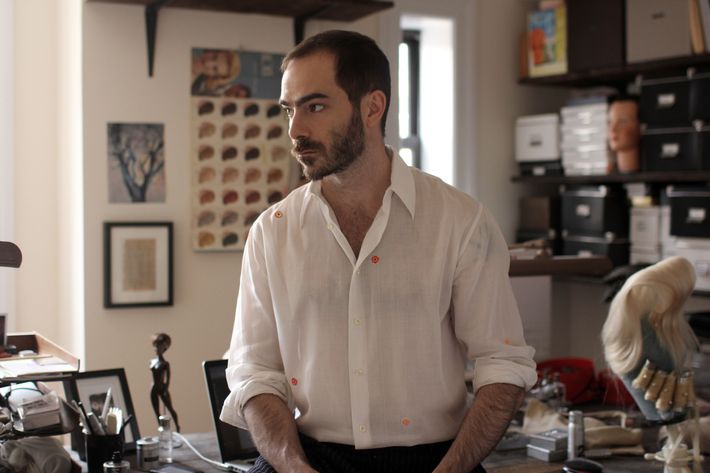 Born in Salonika, in northern Greece, Samaras left his native country to study acting, art, and design in London when he was 17, but even as a child, he was always intrigued by hair. "The actual material, the way it reflects light, the way it reacts to the elements: heat, moisture; the way it can transform a person by color, length, style," he explains of his early passion. "I found it fascinating that people can be someone else by the sheer use of different hair." Upon graduating from the Royal Academy of Dramatic Art, Samaras went back home to Greece, this time arriving in Athens to pursue a career on the stage. However, on a quick trip to New York, Samaras happened to purchase a vintage doll from the old Chelsea market, and started to stage and photograph this new, tiny plastic being. He meticulously styled entire shoots back in Athens, paying close attention to the doll's hair and her outfits. Soon enough, Japanese publications began to see his work online and swiftly came calling. Then Greek Vogue called; his first big shoot was for the cover of their September 2010 issue.
It's been three years since that shoot and Samaras has now relocated to New York, where he still zips around the world for various editorial shoots, but can also be found in the Marie Robinson Salon for special appointments. Those who come to see him are there for Sister Veronica, his custom line of wigs, hair pieces, and extensions. He also has a line of doll wigs, Yatabazah, which run about $400 for each tiny creation. But he's more than just a wigmaker. "I'm an actual full-time actor, but I'm an actual full-time hairstylist as well, and I love both equally. I'm 100 percent fifty-fifty." Read on to hear more about his passions, then click through the slideshow to see all of his loves, including his very special doll collection.
On Carmen dell'Orefice.
"I've researched the world for all types of hair that I might need, from the most exquisite human hair to the most rare animal hair. I had this basic, white hair wig in case I would ever work with Carmen Dell'Orefice. So when that job came along [in Italian Vogue] I was like, 'Oh, I have this.' She's wearing that full-length wig that I had made with goat hair because I wanted it to be white — white, white, white, white, white."
On Kim Novak's wig from Vertigo.
"She's actually an object of fascination for me. Because she's wearing two wigs in that movie. You don't see her hair in that movie for a single second. Yeah, I would pay a lot of money for that wig she wore onscreen."
On his Mdvanii doll collection.*
"When I was 15, I saw a piece on CNN about these French dolls. I was 30 when I finally rediscovered who they were. It was this man [BillyBoy*] who made them … it wasn't really a full-fledged company that made it, because everything was handmade, everything was made of precious materials — so there were not plenty of them. Their clothes were made from scraps of fabric from Dior, Schiaparelli."
On his once-extensive doll collection.
"At one point I had 4,000 dolls. Not all this [Mdvanii] kind, but all different kinds. That's how I learned about fashion. I had dolls from the thirties up to the seventies and eighties, throughout those decades. And that's an education that I was gifted from this weird little hobby of just researching dolls and just getting a kick out of them."
On the year 1968.
"My favorite time in the history of time was 1968. Because the fashion, the music, the people, the lifestyle, the furniture — the everything, from those years, were just the peak, the culminating of everything just working together perfectly for a brief moment."
On celebrities.
"I care about models. I don't care about celebrities. Well, I want to play with anyone who wants to play. If you're doing celebrities who want to have a version of themselves, I'm not into … it was great playing with Tina Fey, making her into Holly Golightly [for the cover of Entertainment magazine].

Thanos Samaras is represented by L'Atelier NYC. 
*Mdvanii is a collection of artworks and fashion dolls trademarked by creators BillyBoy* and Jean Pierre Lestrade.