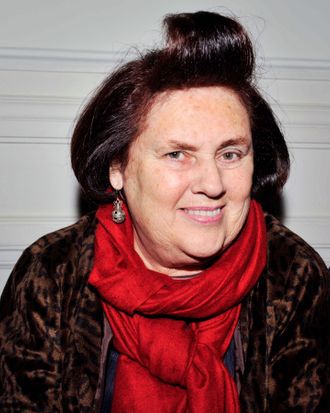 Photo: Leandro Justen/BFANYC.com
In her latest column for T magazine, international fashion editor Suzy Menkes frets about the state of the fashion industry, its feverish pace, and the effect that the demands of back-to-back collections are having on talented designers, the market, and, ultimately, on fashion-obsessed consumers, whose insatiable need for something "new" and need to purchase now only increases the speed of the "fashion treadmill." It's a grueling cycle — all these seasons in September, January, and June — and at the end of the day, creative people are suffering. Menkes plays an alarmist. But only to protect them!
"If we accept that the pace of fashion today was part of the problem behind the decline of John Galliano, the demise of Alexander McQueen and the cause of other well-known rehab cleanups, nonstop shows seem a high price to pay for the endless 'newness' demanded of fashion now," the pompadoured voice of reason writes before going on a hunt to pinpoint the "crazy ones" who are adding to fashion's frenetic speed. While she doesn't find a clear-cut culprit (like online shoppers, e-tailers, fast-fashion chains, and so on) she hones in on her mission: to protect the designers. She even manages to compare a cookie to something negative by asking, "But who needs more fashion and is gagging for yet another show? And how can designers cope, given that even the prolific Picasso did not churn out work like factory-baked cookies?" She concludes with an ominous thought: "As the fashion carousel spins ever faster, the concern is that, while the stream of newness never runs out, there's going to be a good deal more crash and burn among designers in the future." In short, she pleads: Stop turning fashion into a circus and give designers a chance to breathe. Or there may be more anti-Semitic outbursts.