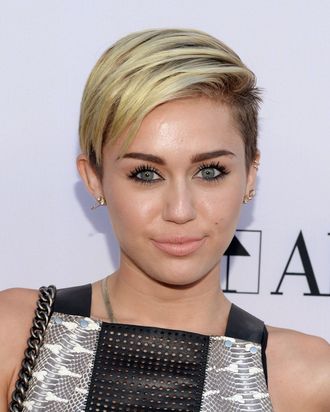 Photo: Jason Kempin/Getty Images
America's ongoing investigation into how Miley Cyrus feels about her hair has reached an unfortunate conclusion. Miley Cyrus — patron saint of the great female hope that a single haircut can change your life — kind of hates her hair. During an appearance on E! Fashion Police, Miley said the following:
I'm secretly tugging on it every night and taking Viviscal. I'm not going to lie. But I'm going to rock it while I have it.
Us Weekly notes that this directly contradicts previous statements Miley Cyrus has made about her feelings for her hair. Six months ago, she said, "You will never see me with long hair again," and "It's so much easier to go shave the sides once a week rather than getting your roots done when you have long hair." This reversal is likely owing to the ephemeral nature of hair-related feelings.
Viviscal is a hair-growth supplement. It works. "Tugging on it" is a home remedy for promoting hair growth. Practitioners believe it stimulates blood flow and/or follicular activity by lightly irritating your scalp. It may not work, but some people swear by it.