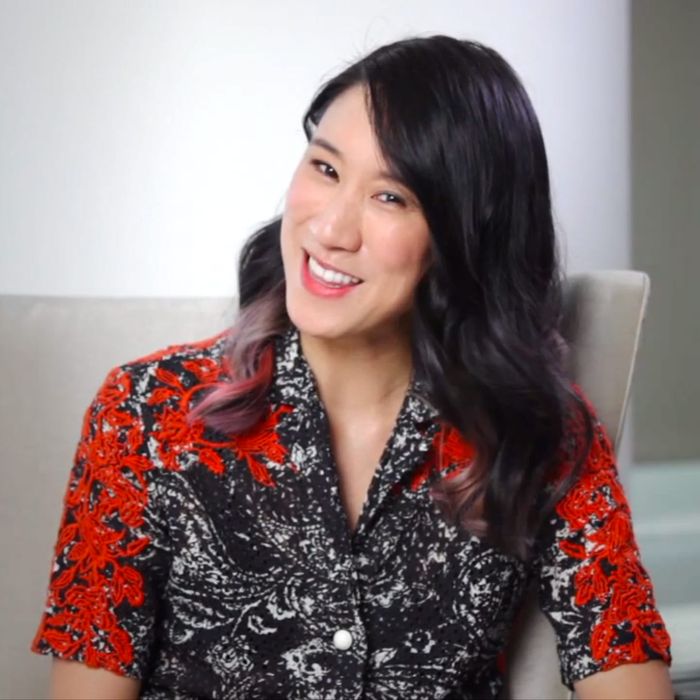 Eva Chen, the colorfully dressed, pink-haired, and perpetually sunny new editor of Lucky, is profiled in today's Times on the heels of her first issue, the magazine's September edition. Chen has given the publication a more luxurious, polished look, and boosted the focus on street style — so far with nice results. Also previously noted: She was hand-picked for the job by Anna Wintour, who made Lucky's revival one of her top priorities since she was promoted to artistic director of Condé Nast. Some have even deemed Chen a protégé of Wintour's — particularly in light of the styling elements that Chen's Lucky cover debut shared with Wintour's very first Vogue. So what exactly is their relationship like?
The Times piece doesn't shed much new light on the cogs of the Condé machine, partly because Wintour "declined requests to comment." (Perhaps she wanted to de-emphasize her involvement in the magazine's reinvention?) But Chen tactfully states that Lucky is very much in her hands:
Ms. Chen said that while Ms, Wintour [sic] is involved with Lucky, "she does recognize that Lucky is very different from Vogue. She trusts my taste and understands my audience is different from hers."
Perhaps a more interesting question is, should Chen successfully improve Lucky's long-suffering ad sales, will Vogue start taking more pages from Chen's playbook? A broader social-media strategy and an updated emphasis on street style (albeit that of very, very glamorous editors and their ilk) must eventually be part of Vogue's future.