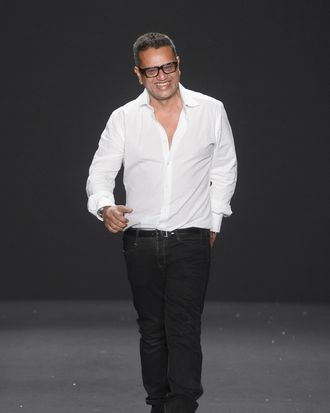 Naeem Khan.
Photo: Peter Michael Dills/Getty Images
Yesterday, New York–based fashion designer Naeem Khan and his former creative director Lionel Geneste agreed to settle a breach of contract dispute that took a nasty turn in court on Friday. Khan, who is known for dressing Michelle Obama in his popular evening gowns, will pay Geneste $125,000 to go away.
Geneste initially sought $300,000 in damages from Khan, alleging that the designer never paid out commission Geneste earned before departing the company in 2006. Khan responded that he'd fired Geneste for identity fraud upon discovering that he had used his boyfriend's social security number on the company's tax forms (Geneste did not have a visa at the time). Khan told WWD:
In addition, [Geneste] had developed a pattern of long, unexcused absences … I wish I would have fired Lionel 18 months earlier than I did, when I was first notified by the IRS of his fraudulent activities. I mistakenly trusted him and gave him the opportunity to sort out the situation, which he never did.
Khan obviously thought his argument was a shoo-in, but Geneste fought dirty. On Friday, one of Geneste's witnesses accused Khan and his wife of drug use (cocaine, party, 2006), and other disgruntled former employees testified that Geneste had been the real brains behind the label. Khan and his lawyer quickly pumped the brakes and offered a deal before the smear campaign could proceed. Geneste said he was glad he "did not have to take the stand because there were a lot of other things that were going to come out that were not pretty." Khan said he was just happy to move on.
And in case this doesn't all sound ridiculous enough, Geneste leaped at the opportunity to tell WWD about his new e-commerce site:
In the next few weeks, Geneste plans to unveil an e-commerce site, bsophisticated.com, which will guide men in buying gifts for women. "It's not about the price point per se. It's about how special a gift is," Geneste said.
Well, now we know what that $125,000 settlement is going towards.