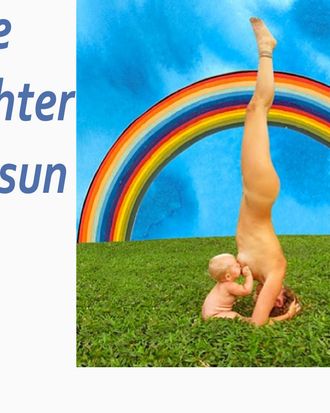 Après the Instagram ban le déluge.
On Friday, the Internet personality known as Naked Breast-feeding Yoga Mom discovered her Instagram account had been deactivated. "I received a warning about a year ago for the naked breastfeeding photo, which they took down," Amy told the Cut by e-mail this weekend. "And then another warning that I couldn't figure out why. I thought maybe for a baby booty shot I had?" Fans of Amy's defunct @DaughterOfTheSun account rallied around her, re-posting her famous nude yoga photo under the hashtag #SaveDaughterOfTheSun.
The photo-sharing network remains unmoved, even as Amy and her husband have joined followers in speaking out.
In a blog post titled, "♂ Getting to the Root of It ♀," Amy and "the photographer and Papa, Agustin White" issue side-by-side statements. Noting that "I could have taken this same picture countless other times, during countless other yoga poses," Agustin argues, "If we are encouraged to repress our own bodies and think of them as unworthy to be naked in the sunlight and other earth elements, it creates a pathology." But he remains optimistic, particularly when "looking at this issue from a planetary level":
Can we evolve our way of life so it is in tune and in real harmony with Mother Earth? Even though so many people continue to live as if they could care less, I'm pretty positive that deep down in our DNA, we just want to be living a life of true harmony with our home planet.  I suppose when we are collectively more in tune with our own planet, it will be much easier to handle a naked body relaxing in nature!
Amy, meanwhile, praises Instagram while vowing to abide by its rules: "Thank you Instagram. I love you, I'm sorry, Please forgive me." A representative for the company confirms that, once deactivated, an account cannot be restored. "While we cannot comment on individual accounts, we followed our usual protocol on this occasion and took action on content that broke our community guidelines," a company spokesperson told the Cut.
We conclude, then, that Instagram may never #SaveDaughterOfTheSun. Daughter of the Sun, however, may save herself. In her blog post, Amy vows to persevere: "If my Instagram account is not reinstated, then so be it! I will continue to create and share more beauty whether on Instagram or beyond! Let's not attach ourselves to the imagery but LIVE the actual message!"