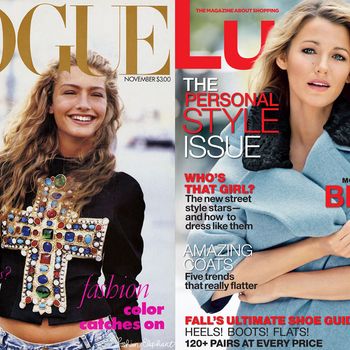 Eva Chen's first Lucky cover; Anna Wintour's first Vogue.
One more reason why Eva Chen's debut Lucky cover has Vogue-y undertones: Blake Lively and her blue Gucci coat were styled by Carlyne Cerf de Dudzeele, who also styled Anna Wintour's first-ever Vogue cover in 1988 — the infamous one on which model Michaela Bercu wore Christian Lacroix with jeans. Last year, Wintour wrote about it for Vogue's 120th anniversary edition:
It was so unlike the studied and elegant close-ups that were typical ofVogue's covers back then, with tons of makeup and major jewelry. This one broke all the rules. Michaela wasn't looking at you, and worse, she had her eyes almost closed. Her hair was blowing across her face. It looked easy, casual, a moment that had been snapped on the street, which it had been, and which was the whole point. 
So, a cover without tons of makeup or jewelry, with eyes squinted and hair blowing, easy, casual, snapped on the street? She could just as easily be describing Lucky's September issue, with which she was reportedly very involved. Cerf de Dudzeele is known for her slightly undone, street-style-inspired looks, which of course take much more work than they appear to. Evidently Anna has a formula for magazine makeovers, and Lucky is the latest beneficiary.