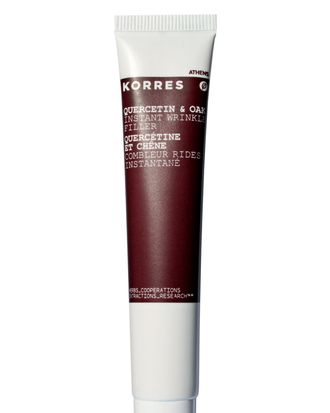 Korres's latest addition to its Quercetin & Oak skin-treatment line is the Instant Wrinkle Filler. Think of it as painter's Spackle for your face. Take any wrinkle, fine line, or acne scar, dab on some of the white-ish cream, and voilà: an instantly smoother surface that will take foundation and concealer more evenly. The quercetin ingredient, a natural retinoid, provides a treatmentlike effect that will help diminish the appearance of wrinkles over time; the cream is also packed with hyaluronic acid for bonus hydration.
The tube, similar to Neosporin's, allows for targeted application to the face, but I preferred to squirt a little on the back of my hand and then apply it with a fingertip. For the most effective coverage, dab the product over your trouble spots — but don't smear. By lightly tapping on the product and letting it set for minute, you'll allow the silicone and mimosa and sunflower waxes to settle into your fine lines and face divots. When you dab or roll on foundation or concealer, be careful not to displace the wrinkle-filling cream.
This product is particularly great for those tiny, fine lines in the under-eye region, which are known to trap and pull apart pigment. I'm skeptical about its abilities to fill and disguise deep creases, which are harder to cover due to natural facial movement. So, if you want to look like Nicole Kidman, this isn't your answer to injectable fillers.