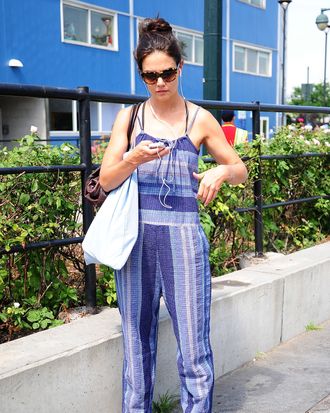 Katie Holmes.
Photo: Alo Ceballos/FilmMagic
Last February, Katie Holmes held a secretive, off-schedule presentation for Holmes & Yang, her line with stylist Jeanne Yang, in a hotel room during New York Fashion Week. We never did hear much about the clothes, but apparently deli muffins were served! In today's WWD, Holmes says she'll repeat the hotel format again this season, so you can forget about another big production at the tents (no more "skinny and hot" quotes, alas).
Meanwhile, she's still plugging away on her collaborations with Bobbi Brown and Alterna hair care, and alluded to a fragrance deal in the works, since everyone stinks right now: "We all need a little help in smelling good, especially in the summer in New York City!" She didn't weigh in on the so-called "trendsetting" effects of Suri's child-heels, though. Come on, we all know that's the market she should tap into.