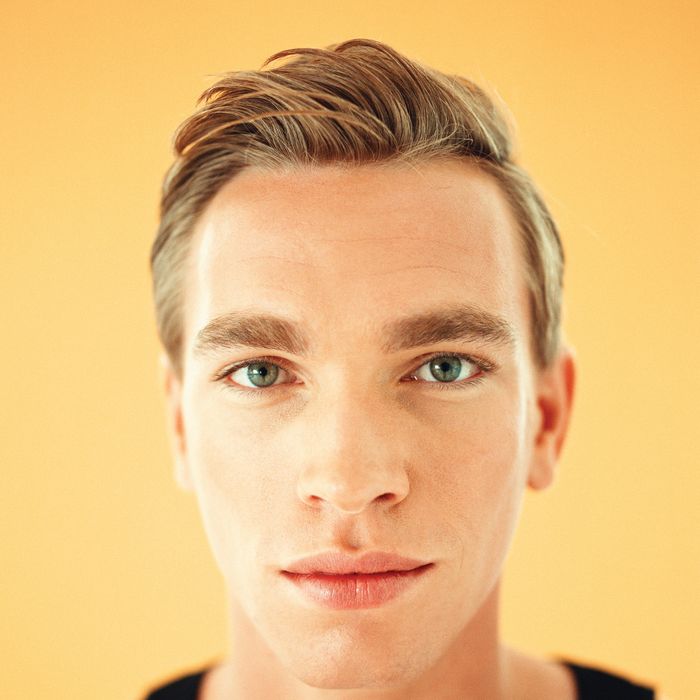 Photo: Ryan Pfluger/New York Magazine
For someone who has become something like famous for being something like a courtesan, Nick Gruber isn't much of a flirt. When I meet up with him at Indochine—he orders coffee with almond milk (which they don't have)—he has a sort of hesitant, smooth-browed composure. But it's good to remember he's decked guys who he's said hit on him when he doesn't want them to (it happens again just a few days after our coffee, at the Hamptons club SL East). Gruber suggested we meet here, at Indochine, that historically fabulous restaurant that opened on Lafayette Street six years before he was born, in part because it was the site of his 21st-birthday bash in 2011, thrown by his then-paramour (and mentor) Calvin Klein, who is 48 years his senior. That night was easily the high point of Gruber's gossip archive, when everything about his swift arrival at the height of New York fashion society was going so apparently brilliantly. The party had a ­Studio 54 theme, with hundreds of Mylar balloons suspended from the ceiling, and Klein invited many of his famous friends—Anna Wintour, Donna Karan, ­Steven Klein, Vera Wang, Alec Baldwin, Daphne Guinness, Ian Schrager, Evan Lysacek, Andy Cohen—to celebrate his young man's coming of age. And they showed up, glad for their old friend's bliss, and maybe just a touch luridly curious about how, after all these years of being so scrupulously un-public about his romantic life, Klein would pick this often-sweet, rough young man to so openly adore.
There was something about Gruber's open-eyed enthusiasm for this world he'd never seen before that appealed to Klein, friends theorized. They even reportedly went hang gliding together. (Gruber loves extreme sports.) And Klein's friends were happy to see them so happy. But their relationship foundered about a year later, and soon after, Gruber was arrested for punching a friend who he claimed hit on him. When the police arrived, they found cocaine in his Calvin Klein underwear and charged him with possession and assault. (He eventually pleaded guilty to the drug charge; the assault charge was dropped.)
It's easy to feel sympathy for Gruber, or at least understand why he's looking for someone to take care of him. "I mean, I've been on my own since basically 8 years old," he tells me, before ordering a refill on his coffee. ("It helps you burn an extra few calories when you work out," which he says he's doing afterward.) He was born in Northern California, near Sacramento, and his parents split when he was very young, his mother moving with him to Florida and sliding into drugs. "As a child, I would walk in the house, I would see her on the floor with a needle in her arm. Like, in seventh grade, she was on the floor, like, shooting up heroin, and then she played dead. Like, she started to have a seizure and convulsion, and then she said something like, 'What if I was dead right now? What would you do?' " Eventually she went to prison, he says."
"I met this wonderful family that took care of me for several years," he says—the family of a boy at school. They "fell in love. We had that connection, and then I moved in. I was there for several years. And then I met another family behind my house, my neighbors, that happened to be in the military, and they adopted me in a sense." They were also avid Baptists, and he'd go to church twice a day Sunday, then once on Wednesday. He misses church: "the community, how friendly people are, the spirit. You know you could feel the energy, and everyone is so happy and loving."
When Gruber was 15, he found his father and went to live with him in McCall, Idaho. "I went camping and boating and hiking and mountain biking and hunting a lot," he says. Then after his mother got out of prison (she's clean and churchgoing now, he says), he moved back with her to California and joined the Army, training as a water-treatment specialist.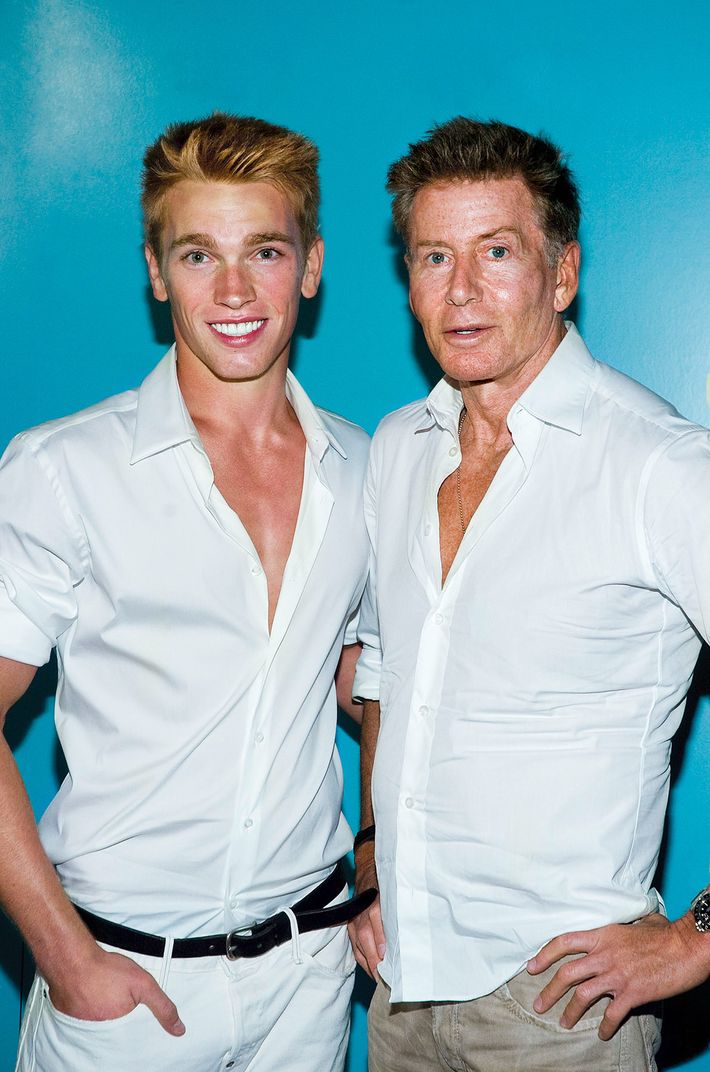 But Fort Riley, Kansas, where he was stationed, became a perilous place for him. "I mean, basically what happened was that the gay community—" he pauses to adjust. His sexuality is clearly undefined, even to him (he's also dated women and tells me, "I plan to have a child when I'm 30 years old"). "I'm not gay, but I don't believe in labels, I believe in love. So the gay community in Fort Riley, Kansas, was really bad"—he means this in the sense that it was dangerous to be gay there. "A lot of people, they would get beat up, or you'll be sleeping in a bunk and the next thing you know your roommate could come over and smash your head in, and no one really knows about it," he says. When rumors came out about him, "They just said, 'You have to leave for your safety.' " He was discharged under "don't ask, don't tell."
Fort Riley is near Manhattan, Kansas, not the most likely place to come across a globally famous fashion designer. So how did they meet? On this he gets vague. "Basically we met through mutual friends. I came to New York before for a photo shoot when I tried to become a model. I was in the Army, and I had three months before I had to get out. We started talking and one thing led to another." Gruber was already, in his way, Internet famous, thanks to a career, detailed in various gossip blogs, doing gay porn under the name Aaron Skyline, as well as building a revealing "modeling" portfolio on ­ModelMayhem.com under the name Nick London. On Facebook, he was reportedly known as Nick Oo. Any of which would be enough to get the attention of Klein himself, or someone in his circle, which could aid in any introduction.
Klein was born in 1942, and like many people of his generation, his sexuality was always half-shrouded. He'd been married first in the sixties (and again in the eighties), but went to gay bars and had a house in Fire Island Pines in the seventies that famously had a kimono on a stick hanging in a window.
"Calvin has always had a number of different people he ran around with," says society photographer Patrick McMullan, who met Gruber through one of his also-quite-young employees. He found Gruber's ordinariness refreshing and thinks that Klein might have, too. "I think maybe Nick didn't know much about who Calvin was when he met him, which I think might be part of what is nice about Nick." ­McMullan mentions Gigi, the Colette novella about a turn-of-the-century courtesan-in-training trying to find her way among the bored, louche Parisian gentlemen, which was made into a musical by Vincente Minnelli; as Maurice Chevalier's character puts it in the film: "Ah, well, she's a ­wonderful girl, Gigi. So young, so fresh, so vulgar. She's not sophisticated like most other women are, but then what do sophisticated women have to offer? Nothing!"
Klein polished up Gruber physically, judging by photos of Gruber that circulated online before they met, fixing his teeth, among other apparent cosmetic procedures. The process ultimately resulted in Gruber looking a bit like a sturdy blond version of Klein in his Fire Island heyday. The Eliza Doolittle project didn't stop there: While they were together, Gruber said he looked into going to NYU (he says he was admitted but decided to put off enrolling) and learned to cook. "When I used to go to Italy a lot, I learned how to make proper pesto." He says he worked for a while at the Lion as an "apprentice sous-chef."
"I wanted to come here, like, you know, to finally get a good education, understand the whole world, how the world works," Gruber says. "And I'm very fortunate that I did come here. I've learned so much in such a short span."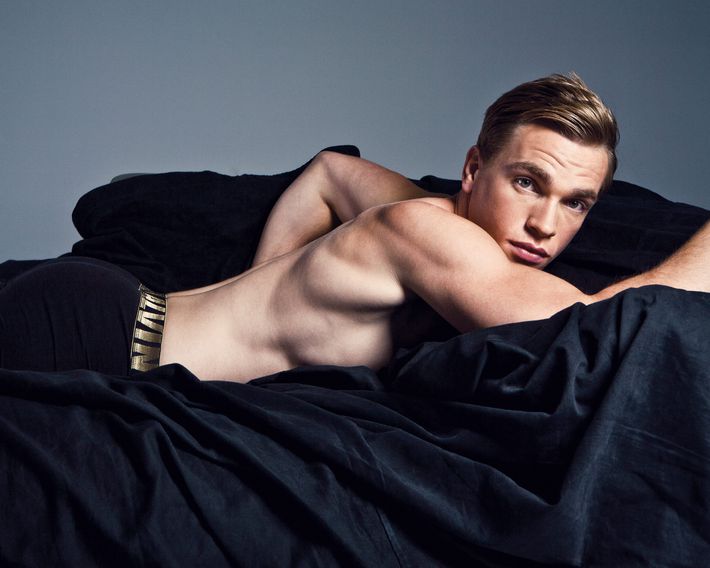 "Calvin tried to make him a first-class citizen," says one friend of the designer. But the plan seemed to quickly run aground on, among other things, Klein's jealousy. (Gruber has said Klein once asked him to take a lie-detector test after the housekeeper mentioned he'd had an overnight male guest.) Then there was the young man's fighting and drug and alcohol use. At one point Gruber reached out to Daniel Nardicio, who was the vice-president for marketing for Playgirl, wanting to talk about posing. "I think he realized that things were not going to last with Calvin, and he was trying to extend his fifteen minutes," Nardicio tells me. After they broke up, Klein took back his gift of a $250,000 Bentley Supersport. "I can't tell you how many flight attendants end up on Fifth Avenue," notes a society figure who knows Klein. "They learn." Gruber didn't, at least not fast enough for Klein, at least according to this friend. (A spokesman for Calvin Klein declined to comment for this story.)
After a stint in rehab, where he was taught that addiction comes from when an "inner child is not fully happy, that is crying all the time," he moved to Los Angeles, became involved with another older man, named John Luciano, and was squired around L.A. by a third, another designer, named Lloyd Klein. Gruber said he intended to write a tell-all about "what came between me and my Calvin" and maybe do a reality show. Now Gruber has scrapped both plans and is back in New York. He seems not to be back with Calvin Klein, despite a reported rapprochement trip together to Mexico. He has a public-­relations man who works with Donald Trump's Miss Universe–pageant winners, to steer him toward a respectable life as an extreme-sports personal trainer and a model. And he's also helping Gruber, if not always successfully, to stay out of trouble, with the whole world gawking at him. "I hate Google," Gruber laments in frustration.
"He was in a fishbowl and didn't always handle things correctly," notes Gruber's friend the former model Kara Young, who is probably still best known for once dating Trump, which means she understands how uncomfortable it can be after a period of being gossip fodder. See, one of the problems with living in this fishbowl is that you can never swim away, unnoticed. Then again, who wants to be just another fish? "My husband is like, 'What is your soft spot for him?' " Young says of Gruber. " 'He's not as innocent as you think.' And I was like, I don't think he's innocent. I just think youth is youth."
Photos: Ryan Pfluger for New York Magazine (Gruber); Steven A Henry/WireImage/Getty Images (Gruber and Klein).
*This article originally appeared in the August 19, 2013 issue of New York Magazine.