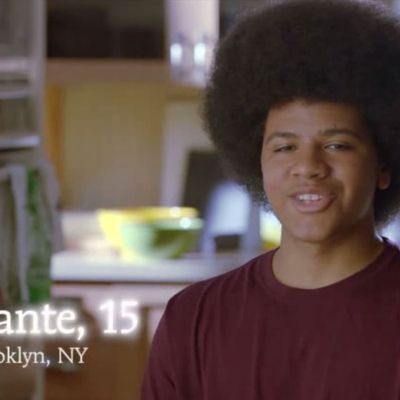 Democratic mayoral candidate Bill de Blasio released a 30-second campaign ad today that stars his 15-year-old son, Dante. As Bill is Italian-American and his wife, Chirlane McCray, is African-American, Dante is bi-racial. He is also in possession of an impressive Afro, which encircles his head like a spherical cloud and takes up most of the camera frame. It's a visual statement that could help elevate his dad above the boring-old-white-guy stigma, and certainly makes for a memorable commercial.
De Blasio has incorporated his close-knit, public-school-educated family into his campaign for months — possibly, as the Times notes, "to portray himself as a paragon of modern, middle-class, multicultural New York," and to bolster "his message that he represents a stark break from Mayor Michael R. Bloomberg, a wealthy white divorced father who sent his children to private academies." Of course, De Blasio denies pressuring his family to contribute, and says their involvement is totally voluntary.
Regardless of whether or not this video was Dante's idea, he and his Afro are now the de facto face of his father's campaign, which has rallied around issues of race. In the ad, Dante states that his dad is "the only [candidate] who will end an era of stop-and-frisk that unfairly targets people of color." (Two notes: This isn't entirely true — other candidates have called for changes in the policy. And secondly, we wondered if anyone has had their 'fro frisked. The only person who's made a stink about it is Solange Knowles, but she can't be the first one it's happened to.) Anyway, it's a safe bet that these words make a stronger impression on voters coming from a teen with cool hair than they would coming from a middle-aged white man from Brooklyn. Will De Blasio's campaign experience an "Afro effect"?
Of course, Dante's long-term impact remains to be seen, but hair matters in politics — remember when Rudy Giuliani ditched his comb-over during his presidential bid? This is the first time in recent elections that a prominent Afro has taken the spotlight; here's hoping for more.