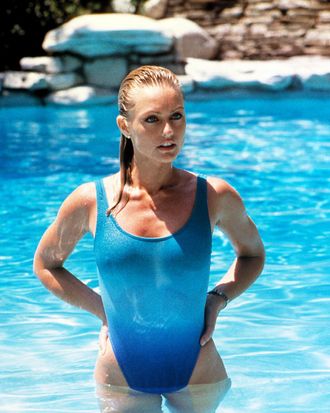 Photo: New World Releasing/Courtesy Everett Collection
Dear Ms. Lyons & Co.,
I know it's already August, and I probably should be preordering for the holidays, but I'm still on swimsuits — probably because I'm eternally searching for the one J.Crew no longer manufactures. It's that simple, sexy, and sporty suit with straight, tank-top-style shoulder straps that swoop like the letter U, dipping seductively in the back to the area just above my waist. So, while you and Mickey Drexler are responding to letters, I'm sending a request: Please bring back the scoop-back tank swimsuit.

These swimsuits filled the drawer I shared with my older sister in the nineties, and I took them for granted. Had I known then how difficult it would be to replace these always-lined (but never padded), clean, open-backed one-pieces, I never would have let them go. I dream now of a rugby-striped turquoise-and-navy version, in matte cotton-Lycra that chlorine had faded to shades of pale aqua and washed-out indigo, and a shinier solid fuchsia one my sister loved.
Once in a while, we would diverge within the relatively safe confines of the J.Crew catalogue: There was a periwinkle one-piece with spaghetti straps that crossed in the back, and the summer after sixth grade, I ordered an underwire swimsuit (in J.Crew's catalogue color "bottle green"), hoping the seamed, bra-style cups would give my pubescent chest some oomph. When it arrived, I was horrified to discover that "underwire" meant there were actually curved metal bars inside the suit. Plus, that bottle-green fabric covered my suntanned back to the bottoms of my shoulder blades. I should have stuck to the scoop; I should have ordered dozens.
Last year, when my black approximation from American Apparel wore through to near-transparency after only a couple of seasons, I hesitated to buy an identical replacement. Although it would have been affordable, at $42, the cut was never right. Rather than diving to the curve of my spine, where a bikini bottom might sit, the suit's back sat awkwardly between my waist and my shoulder blades. (The backs of J.Crew's one-pieces rise equally high today.) Plus, its bottom rode up mine in a way that seemed better suited for American Apparel's soft-porn-ish ads than the real-life beach. Australian label We Are Handsome has the cut right, but a photorealistic print of an eagle's face  — or even a postcard-worthy sailboat in the setting sun — undermines the silhouette's classic appeal. I want to be on the postcard boat, not wearing it.
Family, friends, and professionals — always supportive and never judging — have rallied around this hole in my wardrobe. My friend Sarah took me to some Colorado hot springs where swimsuits were optional. (Mind opening, but I still wanted a swimsuit!) A former Vogue editor suggested I simply have one custom-made. Michelle Goad, founder of personal shopping app PS Dept, sent me a link to a version from Norma Kamali, but the fabric was too thin to be left unlined. (The details of one's bikini wax may be visible alongside the bathing suit, but shouldn't be seen through it.) Not deterred, Goad alerted me to a zippered maillot from Lisa Marie Fernandez. It cost $228. I thought of it as an investment. Freed from swimsuit shopping, I would be able to work again! But after being reduced from the original price of $325, it came with a strict no-returns policy. Even after a customer-service representative patiently replied to my e-mail about sizing, neoprene weights, and drying times, I decided the risk was too great. My mom — eager to talk about something else before 2014 — started sending me photos of black one-pieces from lingerie and department stores across the Midwest.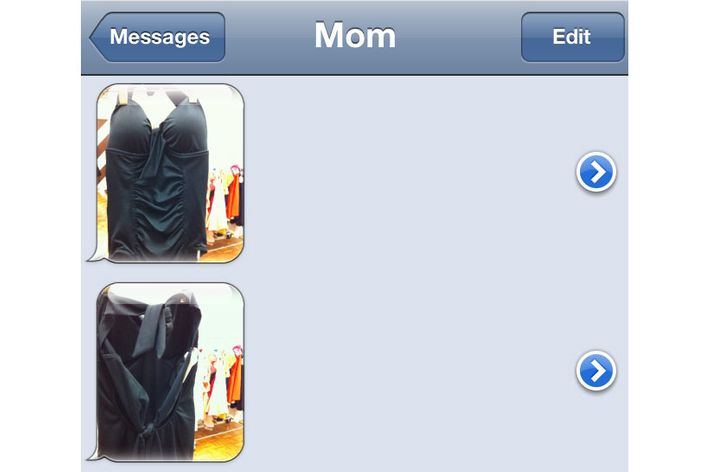 But there seems to be a consensus among "sensible" swimsuit designers that women who wear one-pieces need a great deal of support — often in the form of girdlelike textured fabrics and internal structures resembling flesh-toned egg crates.
I want none of this. What I want is smooth, taut fabric that stretches from my shoulders over my chest and ribcage, with hip-high leg holes and an open back to expose my skin to sand, sunshine, and seawater. I want it available in evocatively named colors like hibiscus, marine, and bottle green. (In black, it's simply unstoppable.)
For now, I've been able to move on with my summer, thanks to a rust-colored tank suit with a perfectly scooped back I found among the dead-stock offerings at Grand Street Bakery in Williamsburg, Brooklyn. At a weekend sale, it cost just $25. I get compliments whenever I wear it. It doesn't feel like a throwback. It feels like a classic. (That said, the swimsuit is lined only in the crotch, which means that area is awkwardly the last part to dry after a swim.)
I just hope when this one wears out, I'll be able to find a better replacement — and that, next time, it comes new from J.Crew.

Fingers crossed,

Jenni Avins