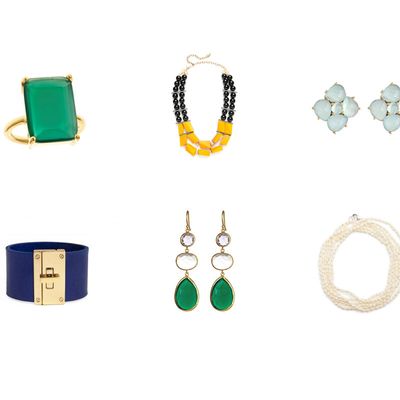 Somewhere deep in my closet is an old shoe box full of tangled necklaces, tarnished silver-plated bracelets, and some god-awful chandelier earrings that don't dangle properly. None of it was expensive, but I still cling to the hope that I might someday figure out how to look awesome in it.
The chances of that happening are slim, though: I am a consistently boring, unadventurous jewelry wearer, mostly because I can't be bothered to switch it up (or afford to, because jewelry is expensive). I once read the expression "shower jewelry," which describes small items so basic you don't even take them off to bathe. That sums up my accessorizing routine, which includes the following: (1) A small gold necklace, (2) tiny gold hoop earrings, and (3) a simple watch with a black band, all gifts from my parents. I used to wear two rings, but they are now too big because my fingers have mysteriously gotten skinnier in the past few years, even though the rest of my body definitely has not.
Enter Rocksbox, a jewelry version of these ubiquitous new "box membership" schemes. For a monthly fee, you get a new package of three jewelry items, worth roughly $300 total, to try out for up to 60 days, at which point you either send them back or buy any item you want. Partner designers include CC Skye, Gorjana, Isharya, and Lucas Jack. As soon as you return your box (or buy its contents), your next box is dispatched.
This sounded appealing, as I foster secret fantasies of being fabulously accessorized and less drab-looking, but I am too busy (or lazy) to find the things that would help me do so. What's more, I have a worrisome track record of buying a new item of jewelry, wearing it to death, and then getting sick of it after a month or two (hence that dusty shoe box). The idea of constant new options mailed to my door jives with my fickle taste and unwillingness to shop. I decide to give it a try.
Box No. 1
My first box arrives before I have completed Rocksbox's online "personal style" questionnaire, so I forgive them for sending me things that would look cool on Rihanna or Cara Delevingne but make me look like I robbed the Chihuahua-accessories department of a pet store. There is a gray leather wraparound bracelet with gold studs ("Is that a cat collar?" asks a co-worker), a geometric gold ring trimmed with rhinestones, and a colorful "statement" necklace that appears to combine art deco and Native American influences with bright-blue faux gems. I can picture it all on the sort of person who wears high-waisted neon denim at music festivals, which I am not.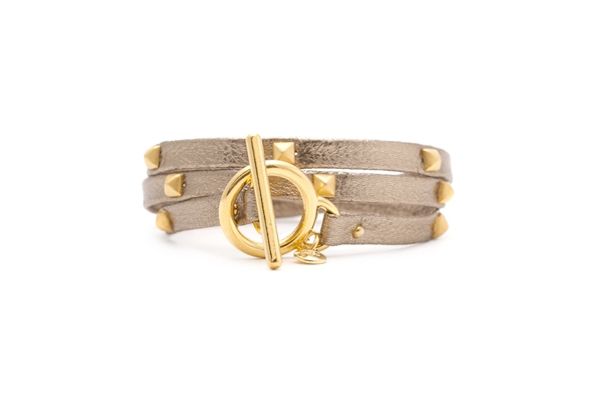 Pros: A handy little card inside where you can indicate which items you liked, which you didn't like, and why, so that they know what to send you (and more important, what NOT to send you) in the future.
Cons: All the jewelry.
Box No. 2
After my disastrous first box, I fill out Rocksbox's style survey, which takes less than five minutes and basically consists of clicking on pictures of jewelry that you like. There's also a page where I am asked to pick any of the following adjectives to describe myself: "bohemian," "modern chic," "glam," "art deco," "rocker," "romantic," "preppy," "edgy," and "feminine." This is difficult, because I don't think of myself as any of these things, but I finally settle on "modern chic" and "preppy," mostly by process of elimination.
Round two is a huge improvement. It includes a chunky black-and-gold ceramic cuff bracelet by CC Skye that I'm surprised I like so much. It's too heavy for me to haul around the office during the day because I'm afraid I will hurt someone (or myself), but I wear it while hosting a dinner party at my apartment and get several compliments, including one from my boyfriend, who doesn't even really know what to call it ("What is that … unit?"). Also in the box: a gold necklace by Gorjana that I would potentially wear if it were a tiny bit shorter (it hits right at my boobs, which looks weird), and stud earrings by Loren Hope that I love in theory but make my earlobes look elephant-sized when I put them on. Still, one out of three isn't bad.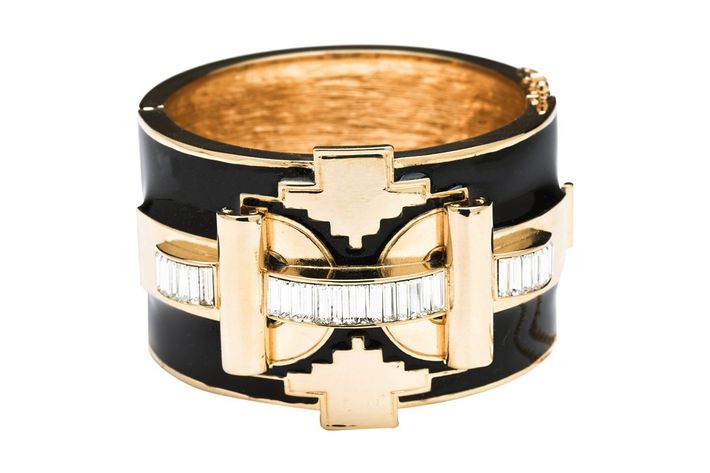 Pros: The cuff. I never would have bought it for myself, which is part of the fun of wearing it.
Cons: The post on one of the studs is bent, but apparently Rocksbox has a policy that if jewelry gets damaged or broken, you just send it back, no problem.
Box No. 3
My confidence in Rocksbox is up, and the third box doesn't disappoint: It contains a fun leather cuff bracelet with a thick gold clasp. (It's by CC Skye, the maker of the other cuff I liked, so apparently I'm a fan.) There's also a pair of dangly gemstone earrings, which I wear to work one day. They're a tad too long for my taste, perhaps because I once read that people who lack jawline definition (i.e. me) should avoid narrow, dangly things around the face, but I'm not sure how true that is. Unfortunately, the necklace they sent, which designer Urban Gem has named the "chunky curb chain," looks like something I could lock my bike with, and not in a good way.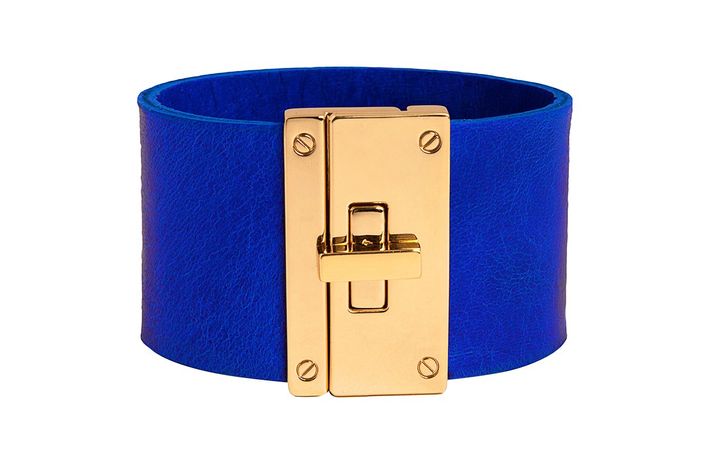 Pros: The earrings are unexpectedly cute.
Cons: The curb chain.
Box No. 4
I only liked one thing from the last box, a simple gold-plated ring set with a cushion-cut Labradorite stone, but it was my runaway favorite from this whole experiment. It's the first time I've worn a ring in years, and it makes my hands look so much prettier that I find myself gesticulating more dramatically during conversations. I resolve to wear rings like this all the time, which is a major life awakening, at least when it comes to accessories. It makes up for the other two duds in the box — a pair of weirdly proportioned dangly green earrings and boring black bangle bracelet that's too big for my wrist.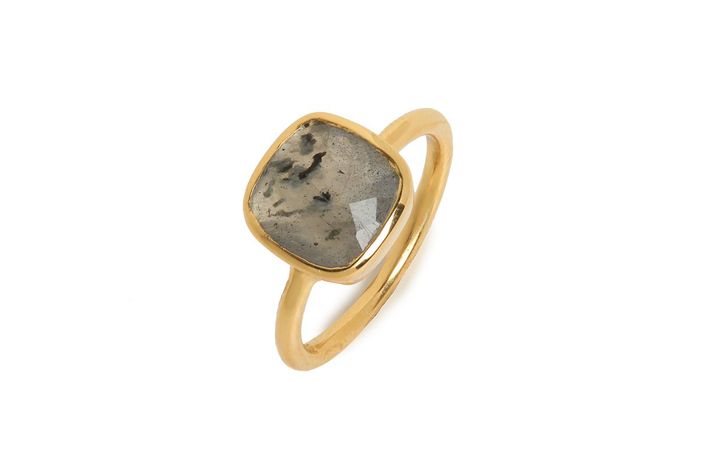 Pros: The ring.
Cons: Everything else.
Conclusion: I'd recommend this. It got me to try a bunch of things that I never would have picked out personally, but surprised myself by liking. It's good for those who need a nudge when it comes to experimenting. And as "borrowing" goes, jewelry is definitely easier (and more sanitary) to loan than clothing or shoes. Also, the price is incredibly reasonable — depending on the length of membership, it's between $15 and $19 per month, which is much cheaper than any of the jewelry you'll get to try. Best of all, it actually made me more inspired about getting dressed — when I had a cool new thing to test-drive, I put more effort into my overall outfit.