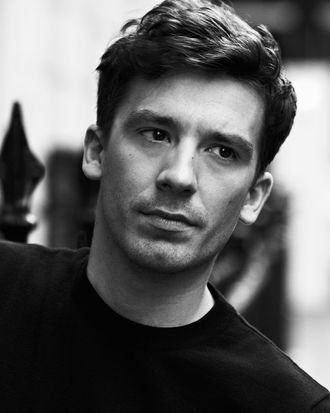 Julien Dossena.
Photo: Patrick Demarchelier
The quest to revive Spanish label Paco Rabanne continues: Resurrected in 2011 by Barcelona-based Puig, the label got its third new creative director in three years today. Thirty-year-old Julien Dossena replaces former creative director Lydia Maurer, who took over the post from Manish Arora in 2012. Here's hoping this one sticks, particularly since Dossena is very cute, and we'd like to see more of him, please.
So, who is this guy? According to a press release from the label, he was a senior designer at Balenciaga from 2008 to 2012 (his departure appears to have coincided with Ghèsquiere's). He's been working for Rabanne since early 2013 and helped design the label's fall 2013 show. The label promises big, fun, and possibly weird things from him:
His radical and innovative interpretation of the Paco Rabanne style will allow us to firmly establish our collections in the world of the most avant-garde and desirable brands on the market.
Meanwhile, he just started his own ready-to-wear label, Atto. Welcome, Julien. Who doesn't love a new face, particularly one this good-looking?